Over-the-top (OTT) audiences are at an all-time high and climbing, with over 80% of U.S. households now equipped with OTT devices. Traffic volumes are increasing at double-digit rates and new OTT app platforms pop-up almost daily as more consumers "cut the cord."
The rapid growth of OTT/Connected TV (CTV) audiences in recent years has reshaped the digital advertising landscape. As the number of cord-cutters continues to rise — eMarketer projects 170 million U.S. users will have an OTT video subscription service this year, rising to nearly 200 million by 2022 — OTT has become a pivotal component of any audience-based digital advertising strategy. Tru Optik estimates that the overall OTT advertising industry will reach $50 billion by 2020 ($20 billion in the U.S.).
However, rapid growth in OTT has opened the door for fraudulent intenders to profit from the rising advertising spend being directed toward OTT/CTV audiences. In this post, Pixalate, the advertising industry's first MRC-accredited solution for the detection and filtration of invalid traffic for OTT video ads, addresses the most common myths about OTT advertising.
MYTH #1: THERE IS NO AD FRAUD IN OTT CHANNELS
REALITY: OTT AD FRAUD IS VERY REAL & IS GROWING AT A RAPID PACE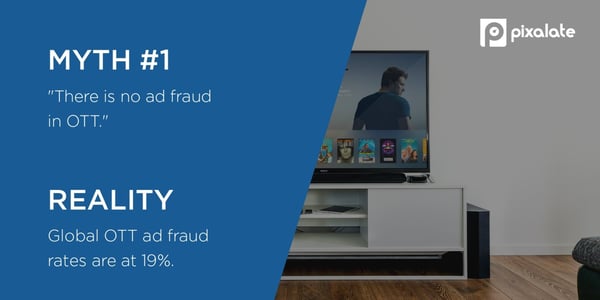 When digital advertising was first introduced in OTT/CTV, a common perception was that OTT was free from ad fraud due to the nature of direct buys. This may have been true in OTT's early days, but ad fraud has since penetrated the OTT ecosystem. As OTT programmatic buying increases, so too will instances of OTT ad fraud.
Fraudsters always follow the money, and the OTT ecosystem is ripe for ad fraud. The rising demand — coupled with the misconception that OTT is free from ad fraud — exacerbates the issue. Pixalate measures OTT traffic across over 55 million OTT device IDs monthly. Our Q3 2018 data reveals global OTT fraud rates averaging 19%. Ad fraud is a similarly big issue in the U.S. (18%). Marketers may lose $10 billion annually in OTT ad spend by 2020.
"While the OTT environments may not be as susceptible to some of the traditional invalid traffic in the sense of simple bots/spiders/crawlers, ad fraud is still a pervasive issue across OTT channels," Pixalate recently told MediaPost.OTT ad fraud schemes often employ similar masking/obfuscation techniques as those utilized in desktop and mobile (web and in-app) environments. However, as we noted in our blog post detailing the larger issue of ad fraud in OTT, OTT fraud schemes are better at avoiding detection because:
Lack of adoption of invalid traffic (IVT) detection solutions specific to OTT environments employed by buy and sell-side partners;

Lack of central app repositories with quality assurance processes (in comparison to Apple/Google app stores);

Lack of standard naming conventions for App/Bundle IDs within OTT environments; leading to different identification/categorization of OTT inventory amongst vendors;

Abuse of the widespread adoption of server-side-ad-insertion (SSAI) integrations in OTT environments
In addition to these considerations, many OTT advertising transactions are sent through unencrypted protocols, leading to exploitation by fraudsters.
MYTH #2: ALL SERVER-SIDE-AD-INSERTION (SSAI) TRAFFIC IS VALID
REALITY: FRAUDSTERS ARE USING SSAI TO MASK OTT AD FRAUD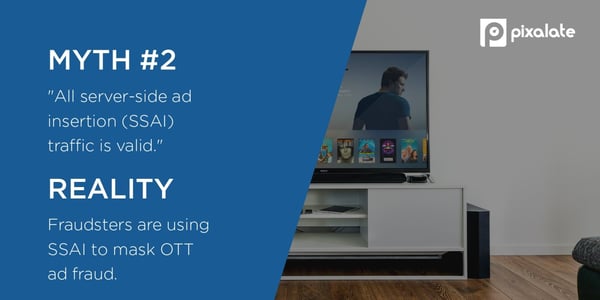 Server-side ad insertion (SSAI) techniques (also referred to as "ad stitching" or "dynamic ad insertion") have become prominent in OTT environments. In OTT, SSAI can be used as a solution to deliver video content and ads in a single stream to reduce buffering and improve the user experience.
While SSAI integrations are common practice in OTT environments — and many applications of SSAI are legitimate — scammers have also exploited SSAI to mask ad fraud in plain sight, hiding behind the veil of valid, legitimate SSAI integrations.
OTT supply chain partners have been quick to whitelist certain proxy traffic considered to be appropriate based on the respective SSAI integration, but this good-faith practice has been exploited to hide fraudulent traffic.
In the coming weeks, we will publish a detailed blog post dedicated to the topic of SSAI in OTT, including its functions/uses, accompanying SSAI measurement considerations and most importantly the SSAI ad fraud implications.
MYTH #3: THE OTT ECOSYSTEM IS TRANSPARENT
REALITY: THE OTT ECOSYSTEM IS FAR FROM TRANSPARENT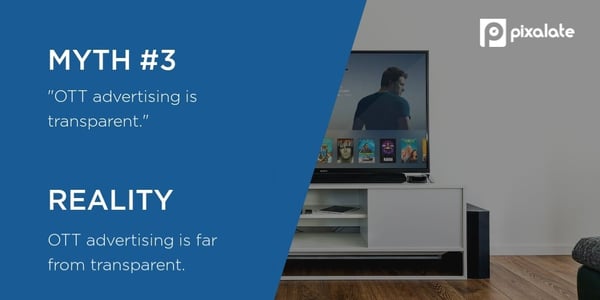 Similar to the early misconception that OTT channels are free of ad fraud, the OTT ecosystem was relatively transparent at the inception of OTT advertising. This was predominantly due to the explicit use of direct buys amongst a limited number of major, legitimate publishers. While direct buys do not guarantee fraud-free inventory or transparency across partners, the overall belief of "OTT is more transparent" was more or less accurate.
Fast-forward to today's OTT ecosystem and we see a once-transparent OTT supply chain littered with obscurity. There are now hundreds of platforms and thousands of applications operating across OTT channels, and it's growing every day.
There are few supportive, central repositories for OTT applications. In many cases, it is even difficult to get a comprehensive list of each application accessible to users on a respective OTT device (e.g., Roku, Sling TV, Amazon Fire, etc.). While there may be some application lists available, they often provide little to no insight into the application itself (i.e., minimal application specifics; limited or non-existent user reviews).
In many cases, there are not adequate quality control (QC) / quality assurance (QA) processes employed across these applications by the respective app store, and most QC/QA processes seldom rise to the level of controls employed by the Google/Apple mobile app stores that marketers have grown accustomed to.
In addition to the platform/application-level considerations, there is a fundamental issue in OTT supply chains when it comes to inventory identification/categorization via app/bundle IDs. Currently, there is no standard naming convention utilized. This has led to inconsistent classification amongst vendors operating in the OTT supply chain and ultimately has obscured a lot of the actual traffic patterns across OTT inventory.
The Video Ad Serving Template (VAST) has made significant strides in addressing these identification inconsistencies (which are more prominent/pronounced in OTT environments). Specifically, the introduction of the Universal Ad ID (and other elements) in VAST 4.0 and the the induction of the Ad Serving ID, [IFA] uuid and [IFATYPE] within VAST 4.1 (November 2018 release) in unison with the Interactive Advertising Bureau (IAB) Guidelines for Identifier for Advertising (IFA) on OTT Platforms), are leading the way in terms of consistent identification (across OTT inventory, users, ad instances, etc.).
Pixalate supports these standards and will continue to monitor their progress, but as with any new standard, it will take time for these identifiers to be universally adopted across the OTT ecosystem.
Schedule a demo to learn how Pixalate reduces ad fraud in OTT
Pixalate has been granted the first-ever MRC accreditation of over-the-top (OTT) sophisticated invalid traffic (SIVT) detection/filtration. With our OTT Analytics and Blocking products, Pixalate helps businesses risk exposure across the entire programmatic advertising landscape. Pixalate is now the only company with MRC-accredited ad fraud detection and prevention technology spanning display, mobile in-app, video, and Connected TV/OTT.
Click the button below to schedule a demo today and see how Pixalate can protect your business in the growing Connected TV/OTT ecosystem.