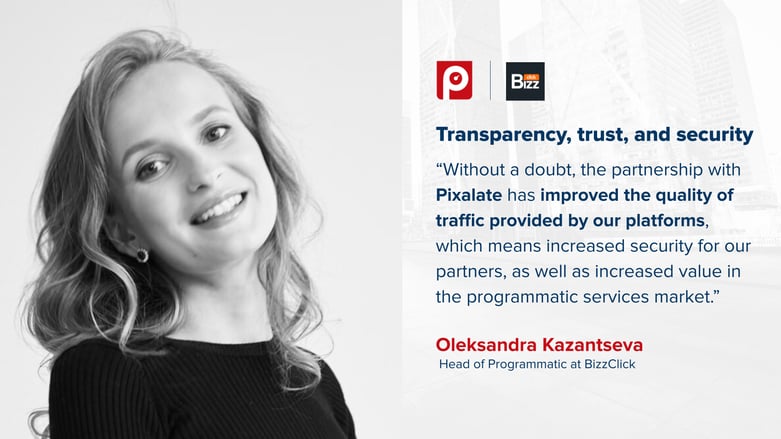 Pixalate spoke with Oleksandra Kazantseva, Head of Programmatic at BizzClick, about tools and practices they use to ensure safety and transparency in their ad ecosystem.
Pixalate:

Tell us a little bit about BizzClick. What is BizzClick? What does it do?
Oleksandra: BizzClick is a rapidly developing programmatic advertising company. It provides access to advanced OpenRTB solutions, incorporating new developments into its tools and platforms. BizzClick focuses on quality, efficiency, and performance. We are recognized industry players with more than 15 years of experience.
Pixalate:

What does BizzClick look for in partner companies when setting up new partnerships? What is most valuable to make these partnerships mutually beneficial?
Oleksandra: Of course, when we look for new partners, we look for companies that can complement our existing capabilities and offerings and help us achieve our and the partners' business goals. The key factors we consider when evaluating potential partners are:
Complementary expertise. We look for partners with complementary expertise and capabilities that can help us expand our offerings and improve our overall value proposition;

Quality inventory. We are always looking for high-quality inventory that we can offer our advertisers. That's why we look for partners with good reputations who provide quality inventory that meets customers' needs;

Data quality and transparency. Data is critical to programmatic advertising, so we look for partners with high-quality, transparent, and accurate data. We're also looking for partners willing to share data and collaborate on data-driven campaigns;

Financial stability. This is an important factor when choosing a future partner. Companies that are financially stable and have a track record of success are evolving, so we can thrive and grow together in the partnership for years. We want to work with businesses focused on long-term partnership success and are interested in building mutually beneficial relationships.




Pixalate:

What steps does BizzClick take to ensure high-quality inventory?
Oleksandra: We strive to ensure that our inventory meets the highest standards of inventory quality. And we accomplish this thanks to the set of rules and multilayered fraud protection techniques:
Strict inventory standards. We adhere to the best inventory practices and standards. With these standards in place, advertisers can be sure about inventory origins and the eligibility of resellers to offer an inventory of the original ad space sellers;

Brand safety measures. We take all possible steps to protect customer brands to ensure our inventory does not contain fraudulent or inappropriate content or traffic. To achieve this goal, first of all, we ally with traffic verification partners like Pixalate to scan inventory for potential SIVT and GIVT risks and screen out any inventory that does not meet brand safety standards. Additionally, our managers constantly monitor traffic quality and react to any potential anomalies that might indicate fraudulent activities;

Direct relationships with publishers. We build direct relationships with most of our partners, which allows advertisers to access high-quality exclusive inventory that may not be available on other ad platforms. While selecting the publishers directly, we have a chance to ensure that their inventory meets our standards for quality and relevance.




Pixalate:

Fraudsters are everywhere — which steps have you taken to manage traffic quality?
Oleksandra: We very much value the trust of our partners and clients, so we are extremely careful to ensure that the traffic provided by our platform is as secure as possible. Of course, we also use the Pixalate solution to monitor IVT, SIVT, and GIVT rates. To ensure maximum security and transparency, we focus on a few key areas:
Traffic validation. We use traffic verification tools like ad fraud detection software to scan and identify fraudulent or non-human traffic. These tools help eliminate low-quality traffic that doesn't meet the platform's standards. All tools used by the platform are regularly updated to current versions to keep up with common risks;

Suspicious traffic filtering. We filter out suspicious traffic by installing filters that block traffic from specific IP addresses or domains. This helps prevent non-human traffic, click farms, and other low-quality traffic sources from accessing the platform.
Here, for example, is the amount of IVT detected by Pixalate for November 2022: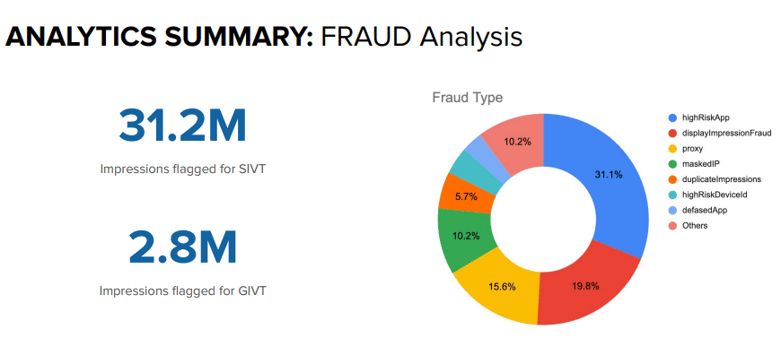 Traffic Source Monitoring. We monitor traffic sources to ensure they provide high-quality, relevant inventory. This includes monitoring viewability, engagement, and conversion rates to identify sources that don't meet platform standards;

Providing transparent reporting. We provide clients with transparent reporting, including where ads were shown, how many impressions were delivered, and other key metrics. This helps clients track campaign performance and ensure their ads are delivered to a high-quality, relevant inventory.




Pixalate:

How has the partnership with Pixalate helped you manage your traffic and inventory?
Oleksandra: Without a doubt, the partnership with Pixalate has improved the quality of traffic provided by our platforms, which means increased security for our partners, as well as increased value in the programmatic services market. For example, in the Seller Trust Index ranking of Top Mobile SSPs, we rank 30, which is a great result because there are so many quality and trustworthy platforms on the list.
Pixalate:

What will happen with programmatic advertising in the next few years? More regulations? Less or more competition?
Oleksandra: With growing concerns over data privacy and transparency, governments and regulatory bodies will likely continue implementing stricter programmatic advertising regulations. This may include rules related to data collecting and sharing, like GDPR and CCPA, and increased transparency requirements for supply chains.
Programmatic advertising is also a highly competitive space, and it is likely that it will be even more overcrowded in the coming years. This may include new players entering the market and established companies expanding their offerings to stay ahead of the competition.
As programmatic advertising becomes more widespread, advertisers and publishers are likely to become increasingly focused on quality. This may include a greater emphasis on viewability, fraud prevention, brand safety, and a shift towards more premium inventory.
Finally, with the increasing amount of data available to advertisers, artificial intelligence (AI) and machine learning will likely play an even greater role in programmatic advertising in the future. This may include the use of AI-powered optimization tools, as well as more advanced targeting capabilities.