Pixalate spoke with Steven Slaughter, Head of Ad Ops & Yield at Krush Media, on helping their CTV and Mobile partners to correct integration and supply chain path issues.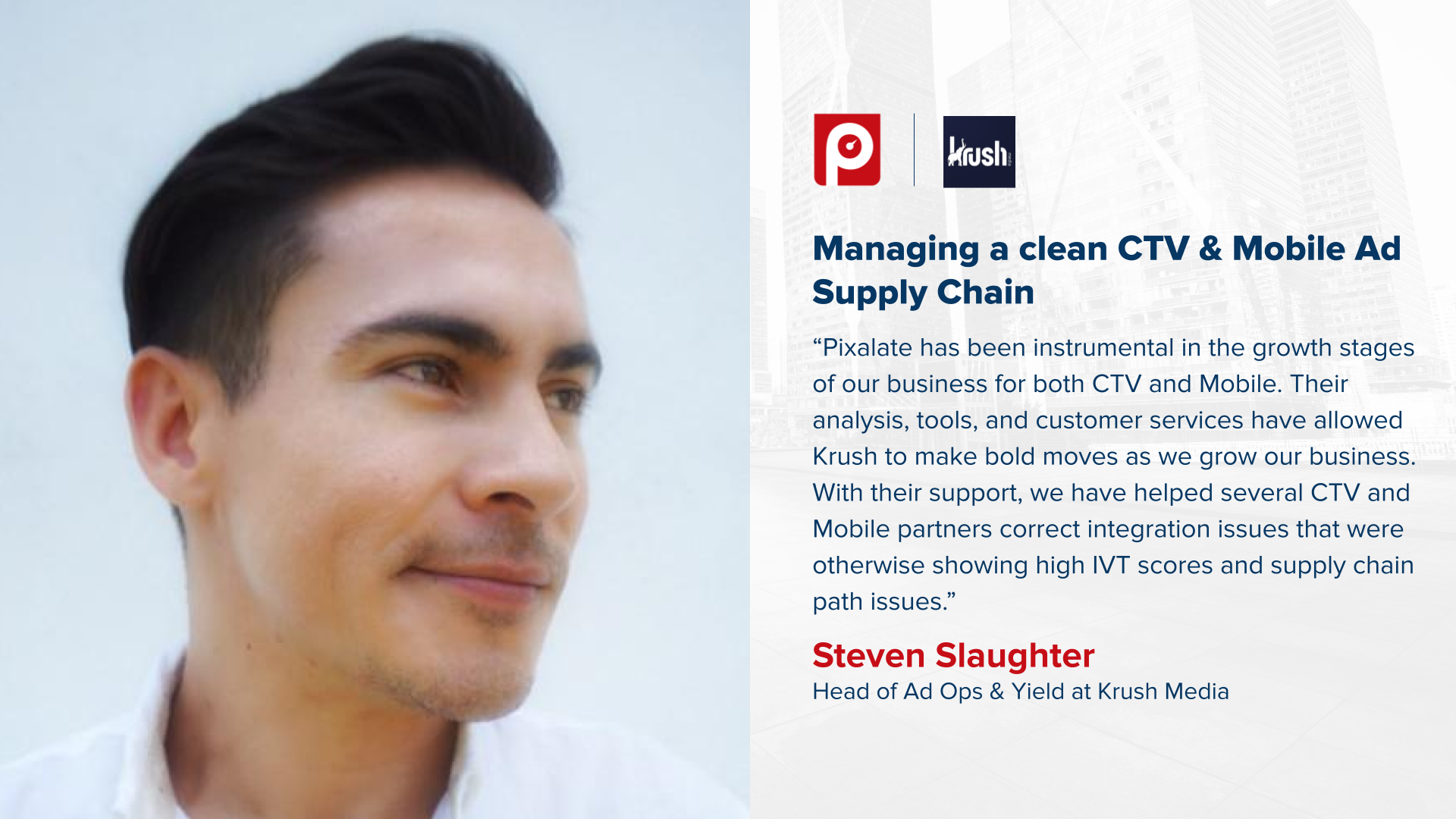 About Steven:
Steven Slaughter is the Head of Ad Ops & Yield, where he is responsible for maximizing revenue for Krush's Supply and Demand Side Partnerships. He manages a global team that focuses on revenue operations and client solutions.
In the last 15 years, Steven has taken on roles in strategy, product development and monetization at several advertising and media companies including OMD, Deep Focus and OpenX. At OpenX, he was part of the core team that introduced the industry to RTB, SSP, Header Bidding and Programmatic Direct Advertising.
Steven graduated from Loyola Marymount University in his hometown, Los Angeles.
Pixalate:

What services does Krush Media offer?
Steven: Krush Media provides a holistic, unified ad exchange allowing publishers to monetize their CTV, Mobile App and Web traffic all with one integration. Our unique offering allows publishers to leverage our agency and programmatic relationships to provide a rich demand stack that includes exclusive demand and PMPs.
Pixalate:

How has Pixalate helped Krush Media navigate their approach to managing a clean CTV ad supply chain, compared to Mobile?
Steven: Pixalate has been instrumental in the growth stages of our business for both CTV and Mobile. Their analysis, tools, and customer services have allowed Krush to make bold moves as we grow our business. With their support, we have helped several CTV and Mobile partners correct integration issues that were otherwise showing high IVT scores and supply chain path issues.
Pixalate:

What are the key steps to securing a transparent programmatic digital ad supply chain across CTV?
Steven: It's simple, everyone needs to finally get app-ads.txt figured out. Although the industry is several years into this initiative, there is still some confusion and disorganization at the operational level. And I am not only referring to some of the new players on the board. Even some of the bigger names out there still have some cleaning up to be done. It is still not perfect.
When the app-ads.txt is wrong, then buyers are not going to want to bid on that supply. Even if it is the traffic they would prefer to bid on. Buyers simply don't have the time to rummage through the data to find false negatives but Krush Media does. At least with our clients, we have taken an active role in working closely to ensure they are set up in the best way they can. That way they can participate in optimal auctions where every premium buyer is bidding on their traffic.
Pixalate's Media Ratings Terminal has been an extremely helpful resource in this endeavor. It serves as our reputable source for us that allows all of us to use them as the one true fact checker. Once app-ads.txt is set, setting up a sellers.json is the next key step. Though we have found a lot less hurdles with the roll out of sellers.json. And the final step in the integration phase is ensuring schain is passed in the requests. Again, this has been pretty straightforward to add to the RTB parameters though there may be some necessary-minor re-trafficking if a VAST tag is being used.
Pixalate:

Which trends, policies, and initiatives do you consider as possibly the most influential on the future of programmatic advertising?
Steven: Outside of putting the final coat of paint on app-ads.txt, we need to figure out how to handle DOOH. By that I mean we need to understand how to operationally proof DOOH asap. I like to think that the biggest appeal of Programmatic advertising is that it can reach consumers with the right ad at the right time. If that is still true then DOOH can provide that on a whole new level.
Krush has partnered with several major DOOH companies this past year. All of which have already proven they can provide massive reach. They have proven they can engage as well and the industry is only the early stages of realizing all the new ways DOOH can shake things up. We have an opportunity to do a complete overhaul on how we design, target and measure ads. With Programmatic DOOH technology we will be able to use geospatial data to reach consumers at multiple touch points throughout the day. Creative will be able to change based on the weather or if a consumer has one last punch on their yogurt card. Of course, all of this can be combined with the data from our more mainstream digital screens.
It's a very exciting time for programmatic advertising - again.
Pixalate:

How does the CTV supply chain differ from Mobile for Krush and why?
Steven: From a high level, I think the supply chains are very similar. Krush is working with publishers that are doing everything from soup to nuts. We are also working with Mobile and CTV partners that have partnered with a variety of third parties that provide various solutions for ad serving, SDK, SSAI, OTT services etc. The critical part to understand here is whether or not these companies are providing true SAAS or if they are just another ad network providing another hop in the supply chain.

Pixalate:

Why is it important to observe every hop in the supply path? Why does completeness of path matter?
Steven: Because every hop matters. If 2 out of 3 of the partners have figured out schain and one still has some product or operational action items not checked off, then the entire bid request is not optimal. Then every partner in the supply chain suffers, especially the publisher.
Publishers want to maximize the monetization of their audience. Ad exchanges want to make the best use of the billions of auctions they process. So in an ideal world, every auction should have maximum competition. As more advertisers have keyed in on the importance of supply path then maximum competition cannot be achieved unless the supply path is at the very least, complete.
Click here to learn more about Pixalate's work related to Supply Path Optimization.