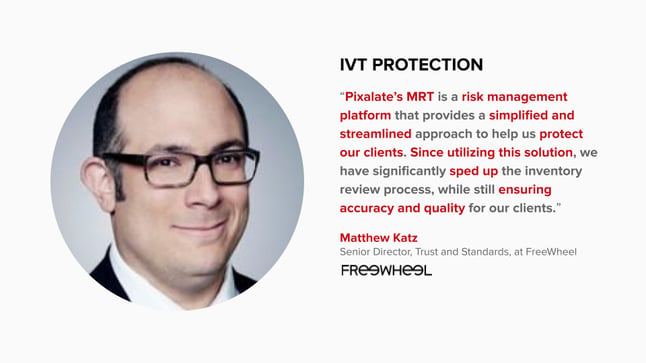 Pixalate spoke with Celine Chung and Matthew Katz from FreeWheel, about maintaining and curating premium quality inventory in today's programmatic, CTV environment.
About Speakers:
Celine Chung is a senior analyst, trust and standards, at FreeWheel. Based in Paris, Celine has been helping to build processes and policies at FreeWheel. She joined FreeWheel in 2019 and has been instrumental in helping all of the company's platforms to maintain high quality in the areas of brand suitability, fraud and transparency.
Matthew Katz is senior director, trust and standards, at FreeWheel. Based in New York, Matt brings a background in helping publishers to execute and generate revenue. Since joining FreeWheel in 2019, he has been focused on working internally and with both publishers and buyers to elevate their brand safety experience and standards.
See the full Q&A below:
Pixalate: Tell us a bit about FreeWheel and its role in the ecosystem.
Matthew Katz: FreeWheel is a Comcast-owned technology platform that connects buyers and sellers. Our mission is to empower all segments of the New TV ecosystem, including CTV, linear, OTT, mobile web, DOOH, desktop, etc. We do this by creating and providing a breadth of solutions the advertising industry needs to achieve their goals. For example, we provide the technology, data enablement and convergent marketplaces so buyers and sellers can transact across all screens, data types and sales channels, in order to drive business results and better engagement with consumers. Our Trust and Standards team ensures an ad experience is safe, secure and protected across all platforms.
Pixalate: How does FreeWheel protect its clients from invalid traffic (IVT) and ad fraud?
Celine Chung: To protect our clients from invalid traffic and ad fraud, we utilize multiple processes and tools, ranging from initial partner onboard reviews, to continuous daily and weekly monitoring of our platforms and clients.
During the initial partner review, we require information proving the transparency and ownership of the inventories. We then vet the entire inventory list for brand suitability safety purposes, adherence to industry frameworks and practices, good ad experiences for the consumer, and a list of numerous other factors. After a client is onboarded, we monitor the quality of the traffic throughout the entire duration of our partnership. So, for example, each morning we monitor the percentage of invalid traffic and then proactively address any inventories that are causing IVT issues. On top of this, we also monitor inventory quality and brand suitability on a weekly basis.
MK: In today's dynamic and fast-changing media landscape, we're constantly evaluating the tools and industry solutions we use to protect our clients from invalid traffic, as well as staying atop of the latest trends and offerings. Pixalate's Media Ratings Terminal is one example. Prior to utilizing this, we used more than a dozen different tools, websites and applications to help protect our platforms against IVT and other brand safety issues. Pixalate's MRT is a risk management platform that provides a simplified and streamlined approach to help us protect our clients. Since utilizing this solution, we have significantly sped up the inventory review process, while still ensuring accuracy and quality for our clients.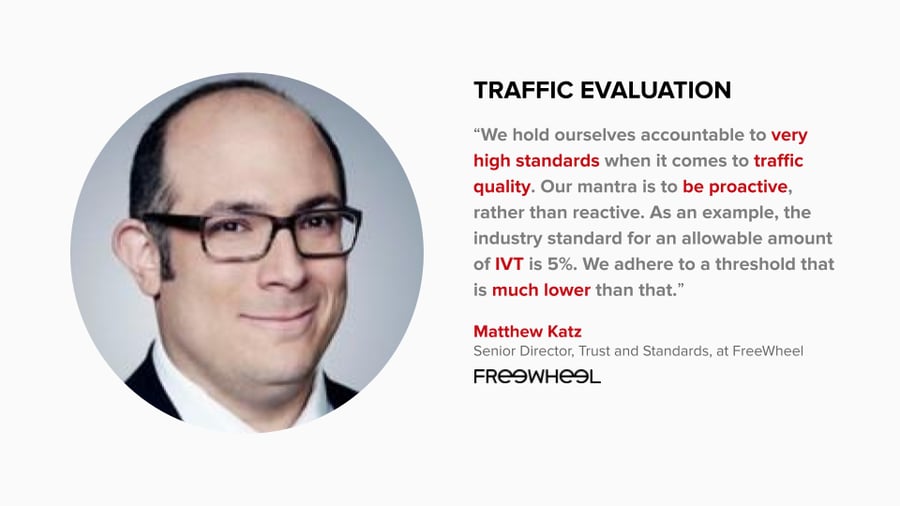 Pixalate: What makes FreeWheel's approach to traffic quality evaluation unique?
MK: We hold ourselves accountable to very high standards when it comes to traffic quality. Our mantra is to be proactive, rather than reactive. As an example, the industry standard for an allowable amount of IVT is 5%. We adhere to a threshold that is much lower than that.
To give you an idea of what that looks like: We conduct daily and weekly monitoring of our full network of clients and vendors. We've ceased working with partners in instances where there have been large fraud incidents or when/if we uncover anything odd in our research. We're pulling the weed when we first see the weed, and not waiting until it gets bigger.
Pixalate: How do you define premium CTV ad inventory?
CC: Quality CTV ad inventory brings together the best of both digital and linear. It is inventory that is in premium content – generally watched on the largest screen in the house (over 77% streaming ad views for their living room). This inventory has high completion rates and viewability because it's active viewing and not passive.
MK: Here are some factors to look for when it comes to premium CTV ad inventory:
Pay attention to the video's quality

. Don't sacrifice quality for quantity.

Transparency is key.

Some content categories are more susceptible to ad fraud, so make sure to have a clear understanding of the content. Additionally, know your client and whom their clients are via ads.txt and other mechanisms. You must also conduct the necessary monitoring of your live inventory.

You get what you pay for.

For instance, if you are buying CTV screen savers, that type of content doesn't lend itself to active viewing and so, the ad performance could suffer.

Pixalate: What do you look for in a technology solutions partner?
MK: Interoperability of platforms, emerging technology, working with companies at the forefront of fighting fraud and video, specifically. Additionally, we want partners who are dedicated to helping us maintain the "premiumness" of our inventory and platforms. Ideally, a company you're working with should want to grow with you and listen to your feedback about a product and use that to make and inform a future roadmap. Ease of use to solve a problem might be obvious, but it's the key to our clients' and our success.
CC: Knowledgeable support from a partner is a must. In today's globally connected world, being able to get access to training, information and answers fast is key. Proactive partners are also helpful. Think: A company that proactively reaches out about a new feature or to inquire about a possible new feature or one that asks you for your input. That's premium service and a high-quality level of working with others.
Pixalate: What's on the horizon for you in this space? What are you closely monitoring or keeping an eye on?
MK: Right now, we're looking to delve deeper into issues involving privacy, piracy and misinformation/disinformation that has become pervasive in the media landscape.
We're also working with industry associations to help pioneer and create the next frontier in this space. One example: FreeWheel is TAG Brand Safety Certified, meaning that we are part of a globally accredited program to fight criminal activity and protect brand safety in digital advertising. The Trustworthy Accountability Group has granted this certification to companies as diverse as Samsung, Walmart, Havas, GroupM, Omnicom Media Group and more. Not only do we hold the certification, but we have been leaning in with the TAG Brand Safety working group. The reason why I bring this up is because at FreeWheel, we believe that we should not just follow best practices, but help pioneer the next chapter of the industry, as well as tackle the new challenges and drive innovation for trusted platforms and all things video.
Pixalate: If you had to offer one tip to our readers and/or industry practitioners, what would it be?
CC: Be proactive with your brand safety plan and approach. Be proactive, not reactive.
MK: Have clear and structured processes. Never stop solving the problems. Keep upping your tactics and improving. The more you review the data, the more patterns, trends and issues you will find. Don't wait for the issue to come at you – go into the process and data to find it. In many instances, the answers are in the data.