Over-the-top (OTT) audiences are at an all-time high and climbing, with over 80% of U.S. households now equipped with OTT devices. Traffic volumes are increasing at double-digit rates and new OTT app platforms pop-up almost daily as more consumers "cut the cord."
This rapid growth in OTT has opened the door for fraudulent intenders to profit from the rising advertising spend being directed toward Connected TV/OTT audiences. But what exactly is OTT, why does OTT advertising matter, and what is ad fraud in OTT?
In this post, Pixalate, the advertising industry's first MRC-accredited solution for the detection and filtration of invalid traffic for OTT video ads, answers key questions about OTT advertising.
What is over-the-top (OTT)?
OTT stands for over-the-top, initially named in reference to devices that go "over" a cable box to give the user access to TV content. In OTT channels, content is delivered via an internet connection rather than through a traditional cable/broadcast provider.
OTT may be defined differently by the various partners involved in the delivery, advertising, and measurement streams. OTT, as defined by OTT content providers (e.g., Hulu, SlingTV, etc.), may include any users accessing OTT content via any device (desktop, mobile phone/tablet, OTT devices, etc.).
However, OTT may also be defined strictly on the basis of the device used to access the content. Examples of OTT devices include Apple TV, Chromecast, Amazon Fire, Roku in addition to Smart TVs (Connected TVs) and gaming platforms (i.e., PlayStation, Xbox, etc.). How advertising inventory is measured/categorized depends on the partners involved in the respective OTT supply chain.
An important point to note regarding OTT advertising is that although video advertising is most prominent in OTT channels, display advertising also occurs in OTT channels and on OTT devices.
Read our blog for a more detailed breakdown of what is included in "OTT."
The OTT ad market will reach $50 billion by 2020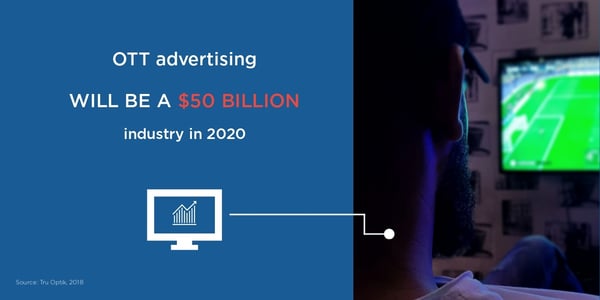 According to a November 2018 eMarketer report, digital video ad spending will grow annually at double-digit rates through 2021 with the number of digital video viewers expected to reach 250 million by 2020. Tru Optik estimates that the overall OTT advertising industry will reach $50 billion by 2020 ($20 billion in the U.S.).
This rapid growth of over-the-top (OTT) audiences in recent years has reshaped the digital advertising landscape. As the number of cord-cutters continues to rise — eMarketer projects 170 million U.S. users will have an OTT video subscription service this year, rising to nearly 200 million by 2022 — OTT has become a pivotal component of any audience-based digital advertising strategy.
Server-side ad insertion (SSAI) adds a unique dynamic to OTT advertising
OTT delivery and measurement is comparable to the serving of video content and ads in desktop and mobile web, as well as mobile in-app, environments. Video content is typically delivered via a content delivery network (CDN), and video ads are delivered via a third-party ad server.
However, server-side ad insertion (SSAI) techniques (also referred to as "ad stitching" or "dynamic ad insertion") have become prominent in OTT environments. SSAI was developed on the publisher sell-side as a technological solution to deliver video content and ads in a single stream to the user device to provide a more seamless user viewing experience.
While SSAI was designed to better the user viewing experience, SSAI also reduces the effectiveness of ad blocking because of the difficulty in distinguishing ads from video content when stitched together.
In the coming weeks and months, Pixalate will be providing detailed thought leadership around SSAI, its functions and uses, accompanying measurement considerations, and, most importantly, the ad fraud implications.
OTT ad fraud is the problem advertisers don't know enough about
As the Connected TV/OTT market grows, so too does the risk of ad fraud. Higher CPMs, a decentralized app ecosystem, a lack of widely-adopted industry standards, and other factors have turned the OTT/CTV landscape into a hotbed for ad fraud.
Here are some of the key questions and answers you need to know about OTT ad fraud:
What is OTT ad fraud and how does it happen?
When digital advertising was first introduced in OTT/CTV channels, a common perception was that OTT was free of ad fraud due to the nature of direct buys with the respective publisher/platform.
While this may have held true at the very inception of OTT, this no longer the case today. Ad fraud has penetrated the OTT ecosystem, and with the rise of programmatic buying on OTT, the instances of OTT ad fraud will likely increase in the years to come.
OTT environments are not as susceptible to some of the "traditional" invalid traffic seen on desktop devices, such as basic bots (spiders/crawlers), ad fraud is still a pervasive issue across OTT channels.
OTT ad fraud schemes often employ similar masking/obfuscation techniques as those utilized in desktop and mobile (web and in-app) environments.
Why are OTT ad fraud schemes harder to detect?
While OTT ad fraud schemes often employ similar techniques as seen in desktop and mobile, the OTT schemes have a much greater chance of avoiding detection due to:
Lack of adoption of invalid traffic (IVT) detection solutions specific to OTT environments employed by buy and sell-side partners;

Lack of central app repositories with quality assurance processes (in comparison to Apple/Google app stores);

Lack of standard naming conventions for App/Bundle IDs within OTT environments; leading to different identification/categorization of OTT inventory amongst vendors;

Abuse of the widespread adoption of server-side-ad-insertion (SSAI) integrations in OTT environments
How can SSAI lead to ad fraud?
While SSAI integrations are common practice in OTT environments, ad fraud schemes are able to exploit these stitching techniques to mask ad fraud in plain sight through the appearance of valid, legitimate SSAI integrations.
In the coming weeks, we will publish a detailed blog post dedicated to the topic of SSAI in OTT.
19% of OTT advertisements are invalid
Ad fraud grows with opportunity. As advertisers' demand for OTT inventory rises (along with correspondingly high CPMs), fraudsters seek to profit. There is a perfect fraud and security storm occurring in OTT today. This reality is driven by the increased demand for OTT advertising and is accompanied by the misconception that OTT channels are free of ad fraud.
As supply and demand have increased, fraudsters have profited. As of Q3 2018, Pixalate measures OTT traffic across over 55 million OTT device IDs monthly. Pixalate data is showing global OTT fraud rates averaging 19%, with U.S. OTT fraud rates close (18%). This leads to the forecast that marketers may lose up to $10 billion annually in OTT spend by 2020.
Pixalate is the only company accredited for SIVT detection and filtration in OTT
Pixalate has been granted the first-ever MRC accreditation of over-the-top (OTT) sophisticated invalid traffic (SIVT) detection/filtration. With our OTT Analytics and Blocking products, Pixalate is uniquely positioned to lower your risk exposure across the entire programmatic advertising landscape. Pixalate is now the only company with MRC-accredited ad fraud detection and prevention technology spanning display, mobile in-app, video, and Connected TV/OTT.
Additionally, Pixalate is thrilled to release our new OTT pre-bid Blocking solution, specifically for high-risk OTT devices and IPs (including IPv6). Schedule a demo to learn more about Pixalate's Fraud Management System — the industry's only anti-fraud platform with accredited OTT solutions.