Pixalate has devoted years of work to researching and building technologies capable of identifying and blocking invalid traffic and ad fraud in OTT and Connected TV (OTT/CTV).
Our research shows that the biggest vulnerability in the OTT/CTV industry — and one that ad fraudsters

are aware of — is the widespread use of Server-Side Ad Insertion (SSAI).
As the leader in OTT/CTV ad fraud solutions, and the only company accredited by the Media Rating Council, Inc. (MRC) for sophisticated invalid traffic (SIVT) detection and filtration across OTT video as of this May 2019 publication, Pixalate has developed proprietary solutions to address the challenges associated with invalid SSAI.
This post explains how Pixalate is addressing SSAI fraud in OTT/CTV. It is the second post in our SSAI series:
Phase 1: Background
Phase 2: Current solutions

Pixalate's approach to SSAI: How Pixalate approaches invalid SSAI measurement
Industry standards for SSAI: How industry governing bodies are approaching SSAI

Phase 3: Looking ahead (coming July 2019)

The buyer's perspective on SSAI: What agencies, DSPs, and brands need to know about SSAI
SSAI myths: Demystifying SSAI by reviewing what true and what's not
How does Pixalate measure OTT/CTV advertising?
Because OTT/CTV environments generally lack support for JavaScript, Pixalate had to devise alternative measurement and SIVT detection methodologies. In short, our OTT/CTV measurement (and ad fraud detection) is comprised of a four-part process: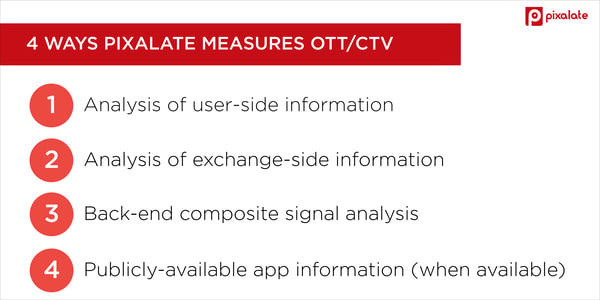 The collection of user-side information, which we receive through the full network stack.
The collection of exchange-side information about the device on which the ad is purportedly being served. As this information cannot be retrieved from a 1x1 pixel directly, Pixalate receives this information through exchange macros.
Back-end composite signal analysis regarding the interaction of the purported users with the apps
The analyses of publicly-available app and app store information (when available)
The first two steps — the collection and analyses of user-side and exchange-side information — are used to measure impressions in OTT/CTV.
The latter two steps — the analysis of back-end composite signals and publicly-available information about the app/app store— are layered in to help detect fraud.
Framing the problem: Ad fraud in SSAI
SSAI is the single biggest threat to the success of programmatic OTT/CTV advertising. And it's a threat that looms large because of the widespread use of SSAI in OTT/CTV. Pixalate analysis shows that SSAI is supposedly used in over one-third (38%) of all OTT/CTV programmatic ad transactions.
Of those purported SSAI transactions, 26% are invalid, making SSAI one of the riskiest channels in terms of ad fraud rates, up there with mobile in-app video advertising.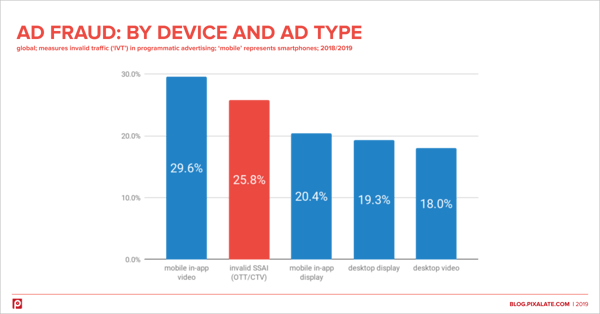 The end result: OTT/CTV advertising, once thought by some to be a fraud-free haven, is arguably the riskiest environment for advertisers — and SSAI shoulders much of the blame.
But the conversation about SSAI is made more complex due to the fact that it is used for both valid and invalid purposes.
How Pixalate identifies OTT/CTV ad fraud
There is currently no deterministic way to identify valid vs. invalid SSAI inventory; so, in order to address the 26% invalid SSAI challenge, Pixalate has taken the initiative and made a significant investment to become the leading innovator, including developing algorithms that estimate the reputation of each SSAI server.
Our machine-learning Proxy Reputation System is backed by the analyses of over 30 composite signals that characterize the overall behavior of an SSAI proxy and its interactions with the publisher (e.g., OTT/CTV apps) and the client (e.g. Device ID).
We have also implemented IPv4 and IPv6 dual-stack recognition as part of our Proxy Reputation System, as more and more OTT/CTV devices are connecting to the internet via IPv6 infrastructure.
The methodology behind Pixalate's Proxy Reputation System leverages and is in accord with the latest VAST 4.0 and VAST 4.1 guidelines as it relates to SSAI. In addition to analyzing XFF header information (when available), Pixalate also captures X-Device-User-Agent and the Forwarded HTTP extensions (once again, when available). Other X-Device-* headers — such as X-Device-IP, X-Device-Referer, and X-Device-Accept-Language — are also collected wherever possible.
Pixalate captures information from these headers (when available), as well as a large variety of other traffic signals (more than 30 in total) and analyzes the data in order to render an opinion regarding the validity of purported SSAI transactions.
In addition to enabling Pixalate the ability to render well-founded opinions regarding valid vs. invalid proxies, this data-driven analysis also helps Pixalate build blocklists for invalid OTT devices, IPv6 and IPv4 users, and proxies.
Greater transparency is needed to reduce SSAI abuse
One reason the OTT/CTV programmatic advertising ecosystem is so susceptible to fraud is that it is too opaque.
In fact, only 26% of all instances of valid SSAI are transparent: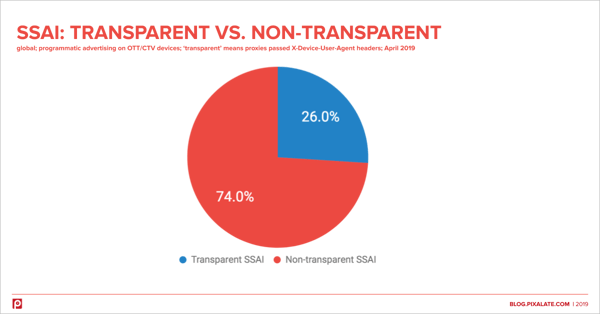 Pixalate deems an impression to be "transparent" when the proxy passes X-Device-User-Agent headers, or one of the additional HTTP headers that have been proposed for more transparency by the IAB.
The IAB's VAST 4.0 guidelines note: "Ad stitching service providers can avoid being mistaken for fraud by including headers that identify the client IP address and user agent string" — including X-Forwarded-For (XFF) and X-Device-User-Agent.
In our multi-year process of developing systems and methods to determine SSAI proxy legitimacy, we've learned that one of the great determining factors in successfully catching fraudsters is to have access to as much information in the header as possible.
With a fully transparent view into the OTT/CTV ad ecosystem, Pixalate is able to identify and catalog proxies and their behaviors at scale, which enables us to create the Proxy Reputation System to automatically detect invalid SSAI. Despite our innovations, this process would not be as successful in a completely opaque ecosystem, which would enable the fraudsters to hide in the shadows for even longer prior to detection.
Pixalate promotes transparency across our solutions and we surface our SSAI analysis to clients through 12 distinct, SSAI-specific metrics. These metrics are presented in our post-bid Analytics dashboard and available via our Fraud API. Examples include:
SSAI Net Tracked Impressions: Estimated total SSAI tracked impressions, excluding IVT.
SSAI Net Transparent Tracked Impressions: Estimated total SSAI tracked impressions that come from proxies passing X-Device-User-Agent headers for more transparency, excluding IVT.
SSAI Net Tracked Impressions %: Estimated percentage of tracked impressions that correspond to SSAI proxies, excluding IVT.
Gross SSAI Transparent Tracked Impressions %: Estimated percentage of tracked impressions that correspond to SSAI and come from proxies passing X-Device-User-Agent headers for more transparency, before removal of IVT.
These and other metrics are combined with additional SSAI data analysis to inform our OTT/CTV products.
What is Pixalate doing to improve SSAI measurement in our industry?
Pixalate works closely with industry governing bodies and, in November 2018, became the first and only vendor specifically accredited by the Media Rating Council, Inc. (MRC) for sophisticated invalid traffic (SIVT) detection and filtration across OTT/CTV video.
Pixalate's Analytics platform also maintains MRC accreditation for SIVT detection and filtration across display and video traffic within desktop, mobile web, and mobile in-app environments, along with MRC accreditation across several other metric areas (including display viewability); visit our Accreditation Areas for additional details.
Additionally, we work with the IAB Tech Lab's Advanced TV committee to recommend standards and guidelines for improving measurement in SSAI and, more broadly, across OTT/CTV advertising.
Pixalate advocates alignment with industry standards
Pixalate measures traffic across SSAI integrations in alignment with both the MRC and IAB guidance.
However, Pixalate's ad fraud detection and filtration solutions are not contingent on a specific VAST framework version.
Pixalate maintains robust general invalid traffic (GIVT) and sophisticated invalid traffic (SIVT) detection/filtration solutions across all VAST integrations while remaining a steadfast proponent of the VAST 4.0/4.1 frameworks.
Pixalate plans to next week release a more detailed post on industry standards, including insight into how the governing bodies (such as the MRC and IAB) are approaching SSAI.
SSAI webinar: Learn from industry experts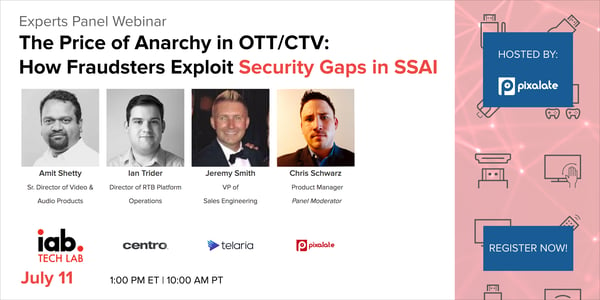 Pixalate, the first and currently only company accredited by the MRC for sophisticated invalid traffic (SIVT) detection and filtration in OTT/CTV, has gathered industry experts for a webinar on the use of Server-Side Ad Insertion (SSAI) in OTT/CTV advertising.
On Thursday, July 11, 2019 at 1:00pm ET, Pixalate Product Manager Chris Schwarz will host:
Amit Shetty, Sr. Director of Video & Audio Products, IAB Tech Lab
Ian Trider, Director of RTB Platform Operations, Centro
Jeremy Smith, VP of Sales Engineering, Telaria
Register today!
Learn how Pixalate's OTT/CTV solutions detect and filter invalid SSAI traffic
To protect clients buying or selling OTT/CTV — or other video — delivered via SSAI, Pixalate offers a suite of full-protection solutions. As experts in OTT/CTV, our SSAI analytics are designed to protect Pixalate clients from the increasingly sophisticated methods used to make illegitimate proxies appear to be legitimate.
Our comprehensive analytics, models, and metrics inform Pixalate fraud types relevant to SSAI, such as Proxy IVT, SSAI Transparent Impression, and others. These metrics, fraud types and their relevant volumes are presented in our post-bid Analytics dashboard and fraud API.
The SSAI IVT detected from invalid proxies, or OTT devices or IPv6 sources through our Analytics, is then fed to pre-bid Blocklists, helping our clients avoid buying fraudulent impressions. We also offer clients the ability to white-list certain SSAI proxies, with such whitelists functioning alongside our machine-learning algorithmic SSAI IVT determinations (i.e., our Proxy Reputation System).
Invalid SSAI detection and filtration form an important part of our OTT/CTV fraud solutions; for more information on how Pixalate can protect your OTT/CTV buying and selling, schedule a demo with us today:
Disclaimer
Although grounded in Pixalate's proprietary technology and analytics (which Pixalate evaluates and updates continuously), discussions regarding, among other topics, invalid traffic (IVT) levels by device and ad type, and sophisticated invalid traffic (SIVT) detection in the context of purported SSAI for OTT/CTV, as set forth in this blog post, represent Pixalate's opinions (i.e., they are neither facts nor guarantees). Per the MRC, the term "'Fraud' is not intended to represent fraud as defined in various laws, statutes and ordinances or as conventionally used in U.S. Court or other legal proceedings, but rather a custom definition strictly for advertising measurement purposes;" and also per the MRC, "'Invalid Traffic' is defined generally as traffic that does not meet certain ad serving quality or completeness criteria, or otherwise does not represent legitimate ad traffic that should be included in measurement counts. Among the reasons why ad traffic may be deemed invalid is it is a result of non-human traffic (spiders, bots, etc.), or activity designed to produce fraudulent traffic."