Welcome to Pixalate's CTV & Mobile App Manual Reviews According to COPPA, a series containing the detailed factors the Trust & Safety Advisory Board educators used to assess an app's child-directedness.
The educators manually review thousands of mobile apps available in the Google Play & Apple App Stores as well as connected TV (CTV) apps from the Roku Channel Store and Amazon Fire TV App Store using the COPPA Rule factors shown below & make those results available to the public at ratings.pixalate.com.
This post takes a look at a game which is available from the Google Play & Apple App Stores. Our reviewer discusses how the subjective factors set forth in the COPPA Rule apply to the app and factor into the reviewer's determination as to whether the app is child-directed or general audience (i.e., it is not targeting children).
Manually reviewed in this post
The 10 COPPA Rule factors
The teacher will indicate the factors they relied upon in their assessment using the 10 factors shown below that reflect the 10 child-directed factors in the COPPA Rule.
Reviewed by: Tabitha Walker

Manual Review: Tiny Roads - Vehicle Puzzles
Likely audience after manual review

Google Developer: TabTale
Apple Developer: TabTale LTD
Google Bundle ID: com.tabtale.kidsflow
Apple Bundle ID: 996450704
Tabitha's Take:

A road building game that can help build problem solving skills for toddlers and younger children.
COPPA factors used to determine audience
Tiny Roads is a puzzle game where players must build roads to help vehicles get from one place to another. Levels range from incredibly simple- drawing a straight road for one car to get to its destination, to very complex- drawing flight paths for numerous planes that do not cross each other or the numerous obstacles. This is a fun way to build critical thinking and problem-solving skills for younger children

Not only are the featured vehicles and modes of transportation very appealing to children, but the concept of building roads for these vehicles is exciting and engaging for young children. I've watched my nephew spend hours building roads for his toy cars and tracks for his trains. Building roads and then having the opportunity to watch the vehicles travel those roads would be immensely rewarding for him.
and
The visuals and animations in this game are geared towards toddlers and young children. The board where roads are built is reminiscent of play mats and rugs that many children have for their toy cars. The visuals are simple, with a grid-based background for the roads to be drawn on. Most of the images are static with a simple animation at the end of the level to show the vehicles traveling down the roads built by the player.
There is very limited language within the app. When first starting an animated hand points to what needs to be clicked and helps to explain how to play. This is perfect for children who are not yet able to read.
Most interactions with the app have sound effects, encouraging the child to continue to click around and play. Different sound effects accompany different levels, for example, water sounds when building 'roads' for the boats.

Repetitive, video-game-style music plays in the background, both on the home screen and during gameplay.
Stars are placed on the gameboard and can be collected by a vehicle traveling on a road that goes through the star. Upon completing a level the player gets to watch the vehicles travel on their roads to the destination. Once the destination is reached, a cheer is heard and stars are awarded based on how many were collected during the level. A static visual of a young boy holding a helmet and cheering is displayed. After completing four levels for a specific mode of transportation, a piece of that vehicle is earned. Once the full vehicle has been collected it is displayed in an album.

Besides concrete incentives, a more passive incentive is the unlimited attempts for each level. Children can sit and try as many times as they want until they figure out how to connect the roads. There are no timers or specified numbers of attempts allowed. There is no "failing" a level, they can keep trying until they get it. Roads can be drawn and erased easily and the level only ends once all the roads are complete and the vehicles can make it to their destinations.
The Android and iOS apps both have a small button on the home screen advertising other apps by the same developer. They also both display banner ads at the bottom of the screen at all times for general audience services, items, and apps.

The Android app plays video ads between some levels for other child-directed apps. The iOS app does not seem to have video ads, but the tradeoff is that some levels are only accessible via a paid upgrade. The Android app allows access to all levels and instead charges to remove advertisements.
and
Tiny Roads is rated E in the US Google Play Store, PEGI 3 in the European Google Play Stores, and 4+ in the Apple App Store. The app description is clear that the app is for children with sentences such as, "Tiny Roads is recommended for kids ages 4-7, but fun for the whole family!"

Reviews indicate that children are the primary players of this game, with a mix of reviews from children and parents.
Privacy
Although TabTable is the developer listed in the app stores, the linked privacy policy is from CrazyLabs. Some quick research uncovered that TabTable has changed its name to CrazyLabs, but it is unclear why they have apps available under both developers' names in the app stores.
The CrazyLabs privacy policy, which was last updated on May 5, 2021, indicates that they "operate apps for all ages." They categorize their apps as apps without age gates that are general audience, apps without age gates that are child-directed, and apps with age gates that are not meant for children but might appeal to kids. There is no list of which apps fall into which category. However, this app seems to be clearly targeting children and there is no age gate in place. For these specific types of apps, CrazyLabs indicates that they do not collect any personally identifiable information from app users.
Screenshots of Tiny Roads - Vehicle Puzzles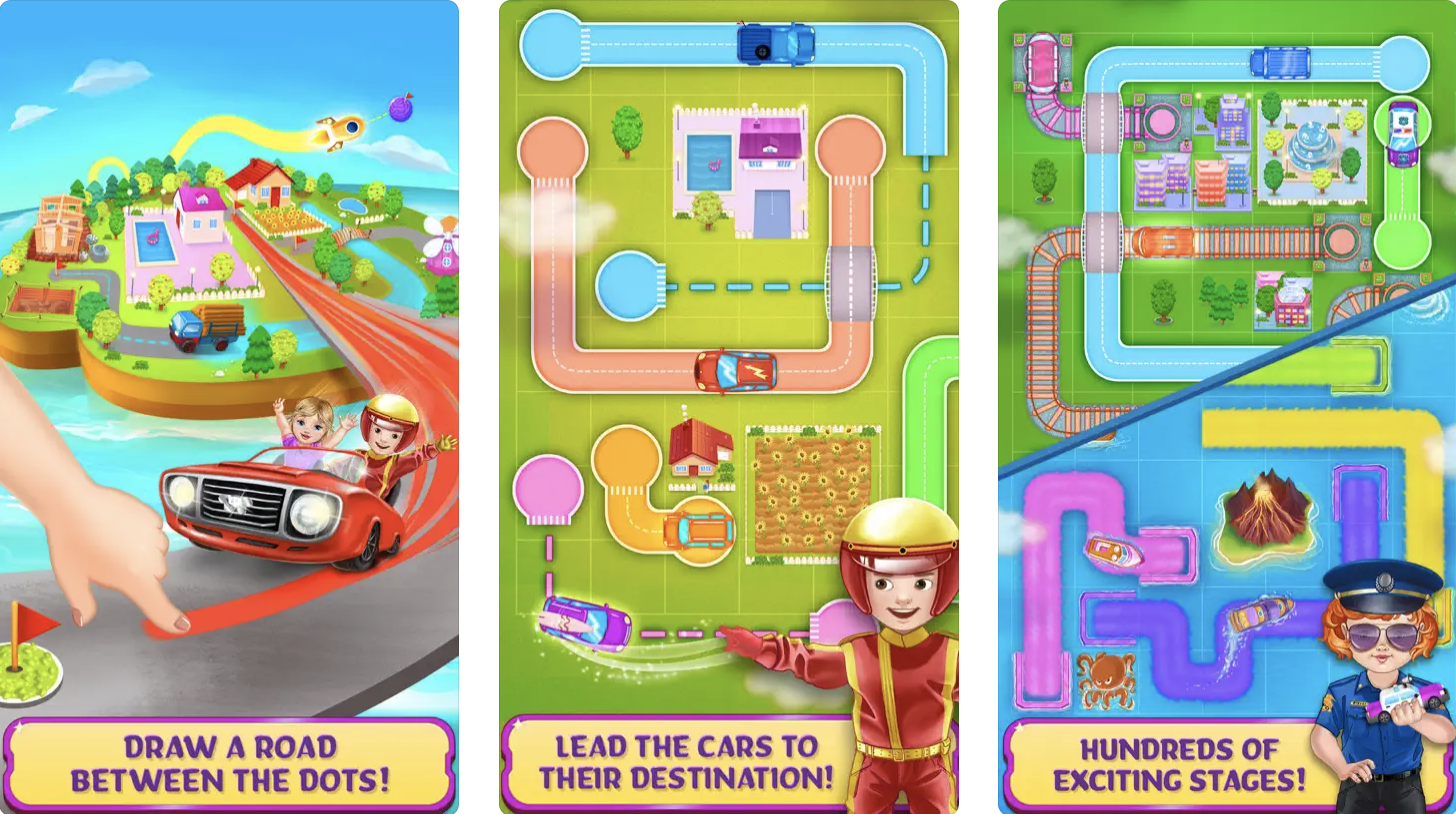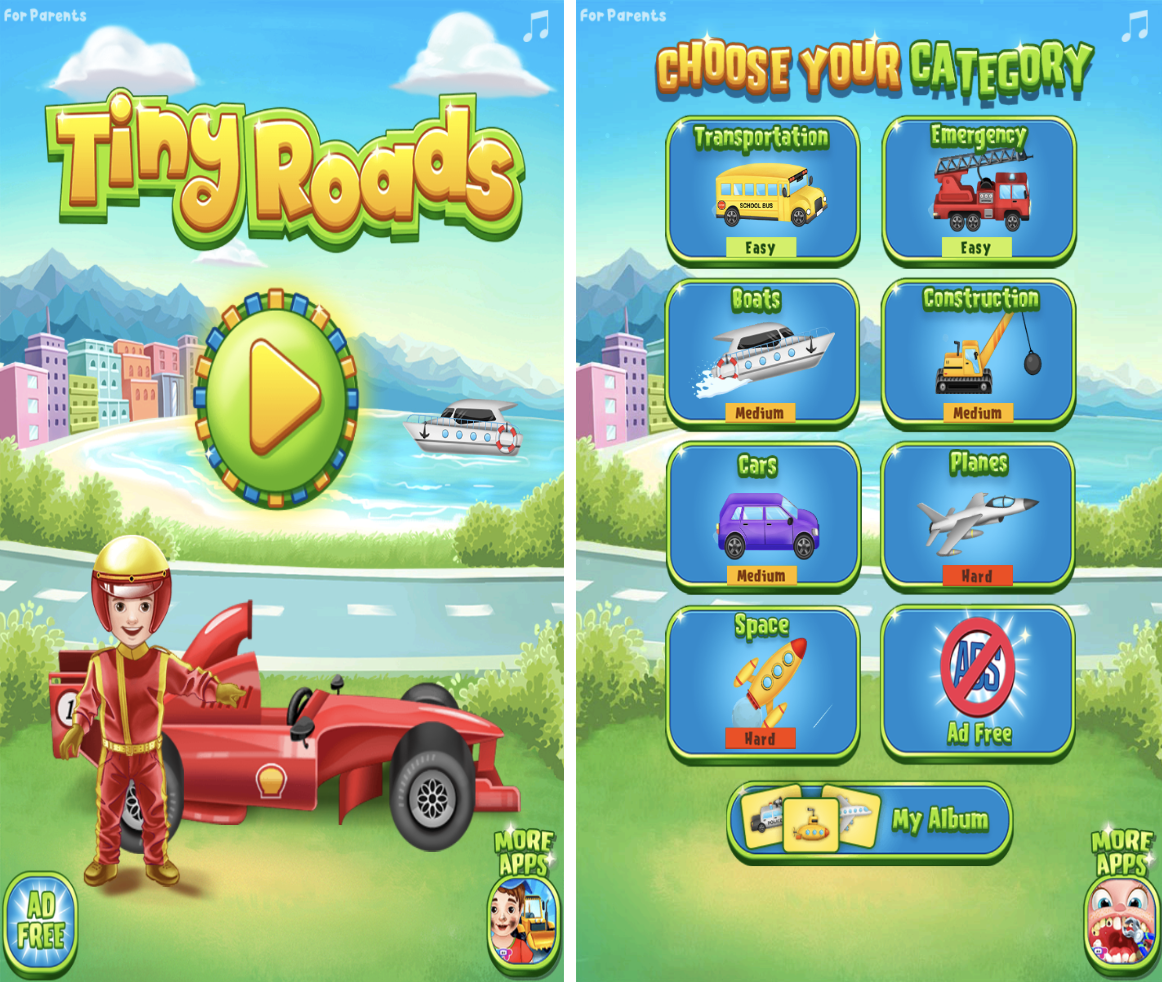 About Pixalate's Trust & Safety Advisory Board
Pixalate's Trust and Safety Advisory Board was created to bring in individuals with experience using child-directed apps in the classroom to review and assess which apps are child-directed. This manual review process serves to quality check Pixalate's automated review process. See our full methodology for more information.
Disclaimer
This blog post published by Pixalate is available for informational purposes only and is not considered legal advice. By viewing this blog post, the reader understands and agrees that there is no attorney-client relationship between the reader and the blog publisher. The blog should not be used as a substitute for legal advice from a licensed professional attorney in the applicable jurisdiction(s), and readers are urged to consult their own legal counsel on any specific legal questions concerning any specific situation. The content of this blog post reflects Pixalate's opinions with respect to factors that Pixalate believes may be useful to the digital media industry. Pixalate's opinions are just that, opinions, which means that they are neither facts nor guarantees; and this blog post is not intended to impugn the standing or reputation of any entity, person or app, but instead, to report findings pertaining to mobile and Connected TV (CTV) apps.