Pixalate spoke with Alex Ritchie, Product Manager, Privacy and Data at AdColony, about brand safety and combatting ad fraud within programmatic mobile in-app advertising.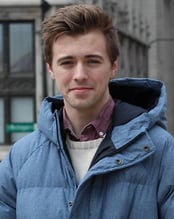 About Alex Ritchie:
Ritchie is AdColony's Product Manager, Privacy and Data, where he works across the organizationand with partners to ensure transparent consumer privacy compliance. Before joining AdColony, Ritchie spent time in both digital marketing consulting as well as MarTech software development.
Ritchie is an industry thought leader at the ad tech intersection of privacy, data, ad fraud, and brand safety. Pixalate spoke with Ritchie about how AdColony addresses quality in mobile in-app advertising.
See the full Q&A below:
Pixalate: What mobile in-app services does AdColony offer for advertisers?
Ritchie: Video, display, programmatic, playables, interactive, and rewarded are our focus areas. We're an in-app ad network obsessed with providing the highest quality mobile advertising and monetization for publishers, and we have an emphasis on video inventory and gaming-oriented publishers but service the full suite. We offer both managed services and self-serve products to connect advertisers with the best possible supply for both brand and UA-oriented advertising.
Pixalate: How does AdColony protect its customers from invalid traffic (IVT)?
Ritchie: I mentally break down our customer protection strategy into a three-pronged approach:
Close partnerships with the smartest anti-ad fraud vendors in the space

Good in-house data science

Up-front scrutiny & constant diligence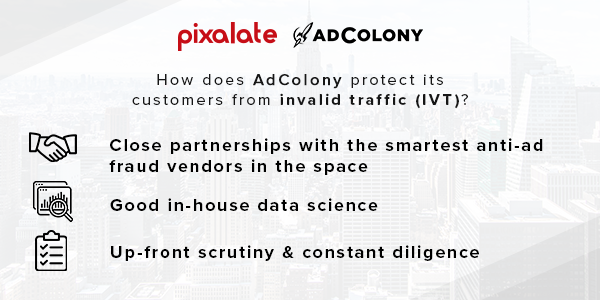 1: Close partnerships with anti-ad fraud vendors
The first point — shout out to the great minds on the Pixalate team — involves working with unbiased, verified third parties monitoring and iterating on new types of IVT detection and prevention. IVT is like performance measurement in that the whole industry benefits from the improved level of trust when no player is "grading their own homework," so to speak.
Fraudsters never sleep. They're working around the clock on coming up with new ways to commit fraud. It only makes sense that you work closely with partners focused on preventing IVT and only IVT. It's not enough to be reacting to fraudsters; you need to be ahead of them.
2: Good in-house data science
The second involves intelligent, business-specific strategies for detecting and preventing IVT. No two ad networks have precisely the same supply, so a diligent hand is needed to take and build on what is provided by trusted partners.
This involves the intentional categorization and classification of the different types of all the other signals indicative of IVT (e.g., viewability and ad interaction monitoring), anomaly detection of activity against IP addresses and mobile ad IDs (MAIDs), hardware signals, publisher activity density, app spoofing, app-level IVT monitoring, geographic monitoring and so on. This helps ensure your bidding algorithms and inventory-eligibility thresholds are correctly tuned so that your demand isn't matched with supply that classifies as IVT.
3: Up-front scrutiny & constant diligence
Prevention is more effective than cure — or in the case of digital fraud, reactive mitigation — but you need both. AdColony has built its brand on delivering advertisers the highest quality, premium video supply. Because of that, we closely scrutinize supply eligibility, both for our on-platform SDK supply and the third-party supply available on our programmatic open exchange.
When you do this, choosing where your supply is coming from is a much more manageable topic to talk about and deal with. Still, it's crucial to have dedicated members of your team monitoring for anomalies, and when found, conduct a thorough investigation and remove the publishers' inventory from your platform if necessary.
Pixalate: What has fueled AdColony's growth over the past three years, and how have you maintained brand safety while growing?

Ritchie: AdColony's success over the past few years has been the fruition of many different initiatives and teams working in concert. Three significant areas have been
the explosive growth of our brand and exchange business, delivering strong results to the windfall of advertisers that have just discovered (and still are discovering!) the tremendous value of in-app video and mobile game inventory, advertising, and competitive utilization of our large SDK footprint to drive better advertiser outcomes.
Naturally, if you want to keep all of that growth, brand safety — and transparency in how that brand safety is accomplished — is paramount. We work closely with our advertisers to understand the different content categories (and subcategories) they're comfortable with their ads appearing besides. As our supply emphasizes in-app gaming, much of that work is assisted by the taxonomies of app store categories, subcategories, internal game classification, and easily accessible lists of allow/blocklists of bundle IDs. For apps with more dynamic content, such as news apps, we work directly with the publisher and utilize third-party monitoring services.
On the other side of the coin, we also offer similar brand safety safeguards to our supply and publishing partners. If a publisher doesn't want ads of a specific category appearing in their app, they should be able to turn that demand off if they choose.
Pixalate: How does AdColony vet the apps you buy on?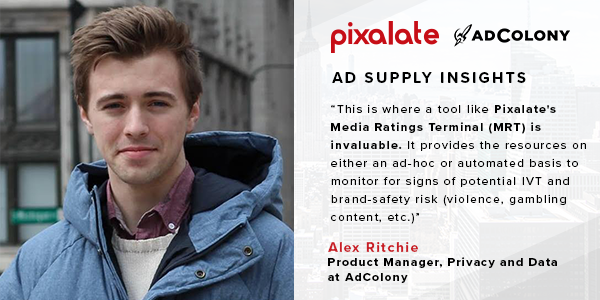 Ritchie: When a publisher is onboarded to AdColony's ad network, our publisher operations team conducts a thorough due diligence exercise on the source of the inventory, reputation and scale of the publisher, and the app-classifications the publisher operates in. This is where a tool like Pixalate's Media Ratings Terminal (MRT) is invaluable. It provides the resources on either an ad-hoc or automated basis to monitor for signs of potential IVT and brand-safety risk (violence, gambling content, etc.).
Additionally, our platform terms of service have strict language and requirements against IVT, against which our teams monitor. When there are new apps for existing publishers, or new publishers sign up for our platform, scrutiny is taken to monitor and observe supply anomalies as the publisher begins to scale.
Pixalate: What efforts have you undertaken to automate inventory evaluation? How has automation helped improve ad quality?
Ritchie: Our primary automated IVT mechanisms operate against two primary criteria: automated bid-request filtering of supply, which either our internal models or partners' models have flagged as IVT, and the culling of supply eligibility based on the post-bid macro evaluation. If any of the supply sources of bundles cross internally set thresholds of potential IVT activity, their supply is removed from demand eligibility, and our operations team conducts an investigation. A small degree of IVT is permitted to account for false positives and measurement error, which is part of why having resources to supplement automated evaluation with a manual investigation is so important.
Beyond that, where we've seen a lot of value are from the benefits of incorporating fraud-indicative signals into bidding and bid eligibility and then optimizing toward advertiser outcomes beyond the billable action.
When your bidding algorithm is highly optimized towards true advertiser performance and ROAS, IVT takes a back seat. The two are incompatible. A fraudster might commit click fraud, a fraudster might install an app under disingenuous circumstances, and you need to have mechanisms in place to detect and prevent that from occurring. But a fraudster will never purchase from your e-commerce store, or micro-transact an in-game currency, or be a high-LTV customer. When bidding optimization shifts to ROAS — real ROI for you advertisers — fraud is forced to take a back seat.