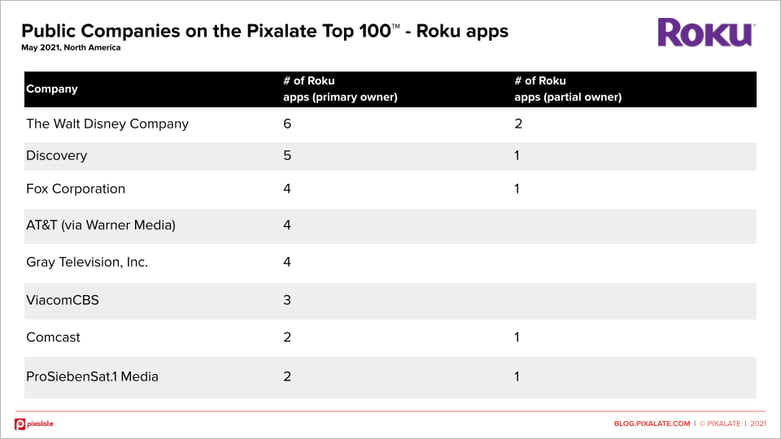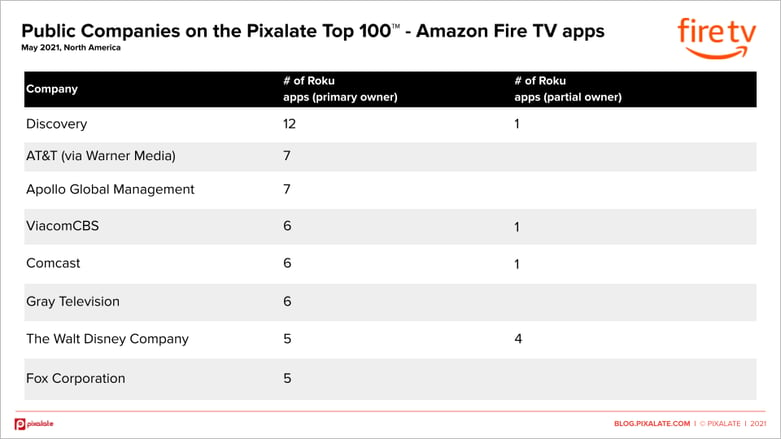 The Walt Disney Company (DIS) and Discovery, Inc. (DISCA) own the most apps in the Pixalate Top 100™ for CTV apps in May 2021 in North America.
Disney achieved the first spot in the Roku ranking with 6 apps in the top 100, including Philo (DIS, DISCA, AMCX, VIAC). Among Disney's other representatives in the Pixalate Top 100™ are Hulu , ESPN, and ABC News Live.
Discovery (DISCA) apps dominated the Amazon Fire TV rankings. The company is the owner of 12 Fire TV apps and a minority stakeholder in one other. In Discovery's portfolio, we can find channels such as Discovery GO, Animal Planet GO, and Watch OWN.
Over half of the top CTV apps for programmatic advertising are owned by public companies
Among the top 100 apps for programmatic ad quality on Roku devices, 43 are owned by publicly traded companies. On the Amazon Fire TV app store, public companies own 73 of the top 100 apps in Pixalate's May 2021 rankings in North America.
Interestingly, for the April 2021 rankings, the number of apps from publicly owned companies was higher on Roku, at 49. We will continue to monitor this trend.
fuboTV holds its own against multinational conglomerates
FuboTV (FUBO) is the only CTV app that debuted on the stock market under its own name and earned a spot in the Pixalate Top 100™ in May 2021 on both the Roku and Amazon Fire TV rankings. With a portfolio of one app, the company successfully vies with larger competitors and ranks high in Pixalate's assessment of overall programmatic ad quality on both platforms.
See more Mobile and CTV app rankings for programmatic advertising
Disclaimer
The content of this blog, and the Publisher Trust Indexes (collectively, the "Indexes"), reflect Pixalate's opinions with respect to factors that Pixalate believes may be useful to the digital media industry. The Indexes examine programmatic advertising activity on mobile apps and Connected TV (CTV) apps (collectively, the "apps"). As cited in the Indexes and referenced in the Indexes' key findings reproduced herein, the ratings and rankings in the Indexes are based on a number of metrics (e.g., "Brand Safety") and Pixalate's opinions regarding the relative performance of each app publisher with respect to the metrics. The data is derived from buy-side, predominantly open auction, programmatic advertising transactions, as measured by Pixalate. The Indexes examine global advertising activity across North America, EMEA, APAC, and LATAM, respectively, as well as programmatic advertising activity within discrete app categories. Any insights shared are grounded in Pixalate's proprietary technology and analytics, which Pixalate is continuously evaluating and updating. Any references to outside sources in the Indexes and herein should not be construed as endorsements. Pixalate's opinions are just that, opinions, which means that they are neither facts nor guarantees; and neither this press release nor the Indexes are intended to impugn the standing or reputation of any person, entity or app.