New Reach Metric Gives 360 Degree View of Seller Inventory Quality
Pixalate, the leader in fraud protection and data intelligence, today intensified the battle against ad fraud with the release of its next generation Global Seller Trust Index™ (GSTI), the rating standard for programmatic advertising. As part of the new GSTI, the company introduced Reach, a new revolutionary reach metric that filters out fraudulent devices and accurately measures the real human users a seller or exchange has access to.
Ad fraud is the biggest threat facing today's digital advertising economy. Research shows up to 48.5 percent of internet traffic are crawlers, bots, or non-human traffic (NHT). Existing direct and panel-based measurements used to calculate inventory reach ignore the impact of NHT, and as a result, lack accuracy and mislead advertisers, buyers and agencies on the true reach of their campaigns.
"Any measurement methodology in today's advertising economy that doesn't address invalid traffic is outdated and misleading, be it in measuring reach, impressions, ad viewability or CTR," said Jalal Nasir, CEO, Pixalate. "Pixalate's mission is to accurately provide a 360 degree view of the supply chain on every seller, so advertisers and investors can partner with the most trusted sellers and exchanges globally and at scale. Our next gen index with Reach delivers on that mission by unlocking additional insights about seller inventory."
Next Gen Global Seller Trust Index
The GSTI evaluates 400 ad exchanges and SSPs based on an analysis of 100 billion monthly impressions to determine their reputation. Seller Ratings are based upon a weighted analysis and scoring of overall effectiveness assessing Reach, fraud, masking, viewability and network. Features of the new GSTI for January 2016 include:
New Reach Score
New International Global Seller Trust Index:

as programmatic advertising gains traction globally, the GSTI has now added an International index for publishers and buyers who want to learn which companies with non-US traffic work best for them.

Standardized Fraud Metric

: the former Fraud Score is now divided into:
SIVT Score

: medium-risk traffic

such as hijacked devices, URL spoofing or falsely represented impressions.

GIVT Score

:

high-risk traffic such as data center traffic, bots and spiders or other crawlers masquerading as legitimate users.
Global Seller Trust Index January 2016 Results
Rankings for the best inventory quality platforms in January 2016 are now available through the new GSTI. Top sellers across the US and International Global Seller Trust Indexes and in-app Mobile Seller Trust Index™ (MSTI) include: Rubicon Project, Amobee, OpenX, AOL Marketplace, Big Mobile Group, Google AdExchange, Millennial Media Exchange, PulsePoint, Inc., and Sovrn.
US Global Seller Trust Index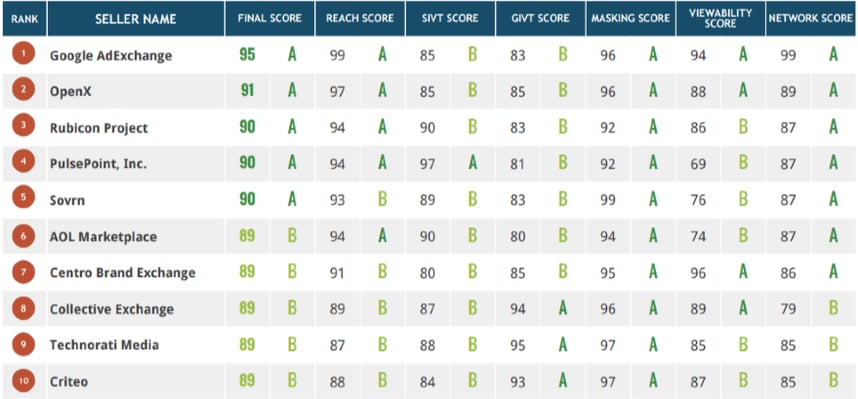 International Global Seller Trust Index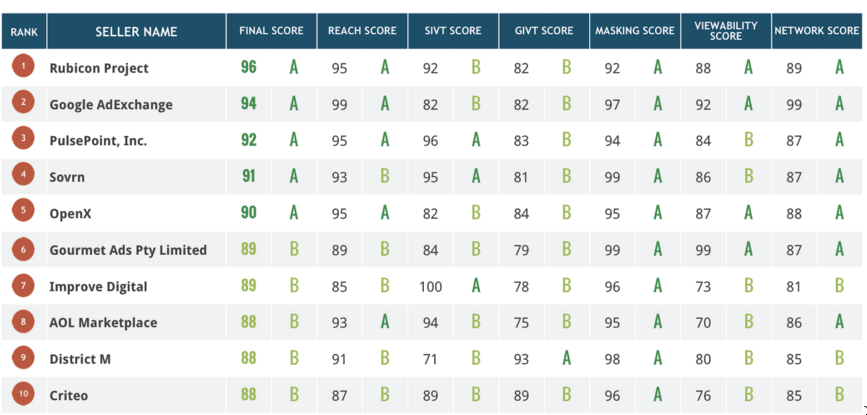 In-App Mobile Seller Trust Index
The MSTI evaluates 125 supply-side platforms with in-app mobile inventory based on an analysis of more than five billion impressions to determine the reputation. Seller Ratings are based upon a weighted analysis and scoring of overall effectiveness assessing reach, fraud, transparency and location.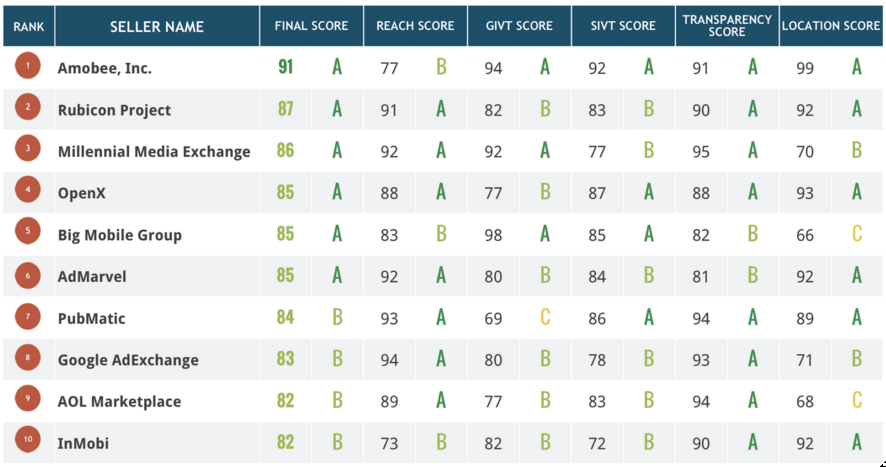 The Indexes are an independent industry rating based on data collected by Pixalate on the ad marketplace. Pixalate does not endorse any specific vendor or service ranked in the Indexes and is not responsible for exchange data. Rating scores are normalized to a range of 0-99.
About the Global Seller Trust Index and Mobile Seller Trust Index
The Pixalate Global Seller Trust Index is the rating standard for programmatic advertising. It delivers data-driven measure of quality and security integrity of programmatic sellers. Pixalate continuously analyzes, rates and monitors sellers quality, performance and security posture using billions of real time transactions, corresponding web pages quality and external web quality data. More than 10,000 ad agencies, pubs, marketers and investors download the GSTI on a monthly basis.

DISCLAIMER: The ratings and rankings are, and must be construed solely as, statements of opinion and not statements of fact or recommendations to purchase or sell media inventory. Each rating or other opinion must be weighed solely as one factor in any transactional decision made by or on behalf of any user of the information, and each such user must accordingly make its own study and evaluation of each vendor.
About Pixalate
Pixalate, Inc. is a leading global intelligence platform and real time-fraud protection provider. Pixalate is a Media Rating Council accredited vendor for display ad viewability. For more information, please visit www.pixalate.com.