Welcome to Pixalate's CTV & Mobile App Manual Reviews According to COPPA, a series containing the detailed factors the Trust & Safety Advisory Board educators used to assess an app's child-directedness.
The educators manually review thousands of mobile apps available in the Google Play & Apple App Stores as well as connected TV (CTV) apps from the Roku Channel Store and Amazon Fire TV App Store using the COPPA Rule factors shown below & make those results available to the public at ratings.pixalate.com.
This post takes a look at a game which is available from the Google Play & Apple App Stores. Our reviewer discusses how the subjective factors set forth in the COPPA Rule apply to the app and factor into the reviewer's determination as to whether the app is child-directed or general audience (i.e., it is not targeting children).
Manually reviewed in this post
The 10 COPPA Rule factors
The teacher will indicate the factors they relied upon in their assessment using the 10 factors shown below that reflect the 10 child-directed factors in the COPPA Rule.
Reviewed by: Tabitha Walker

Manual Review: Real Cake Maker 3D Bakery
Likely audience after manual review

Google Developer: Coco Play By TabTale
Apple Developer: Cocoplay Limited
Google Bundle ID: com.cocoplay.cakemaker
Apple Bundle ID: 1156447726
Tabitha's Take:

A baking game featuring an animated toddler baking, decorating, and selling cakes to adorable animated animals.
COPPA factors used to determine audience
Real Cake Maker 3D Bakery allows users to 'bake' and decorate cakes to sell to a variety of animated, animal customers. Players go through each step of the baking process- measuring out ingredients, mixing the batter, baking, frosting, and decorating. After completing the cake, it is presented to the customer and they enjoy eating a slice. As players progress through the game they are able to unlock a variety of different types of cakes and decorations, giving an endless supply of cake outcomes.
and
The avatar in the game is a pig-tailed, toddler, and is not customizable. She does things like stick her fingers into the cake on the start screen and clap when you complete a step in the cake-making process. There is a mix of human and animal characters interacting with each other. The animated characters are all very child-focused, with oversized heads and large eyes.

The kitchen, itself, is also very child friendly. It has bright pink cabinets and green countertops. The game map appears to be a giant cupcake cake floating in the ocean with dreamlike buildings shaped like cakes, blenders, and other items.
There is limited text on screen and the text that is present does not have to be read in order to understand how to play the game. The game relies on nonverbal cues, such as animated hands guiding the child to interact with the game, making it easy for even the youngest players to have success interacting with the app.
Energetic background music and numerous sound effects are played throughout the game. Almost every step of the game has an accompanying sound, from sizzling stove tops to dinging timers. Even pressing the start buttons or selecting the cake being made emits a button press noise. The toddler avatar makes giggling and primarily nonsensical sounds, along with occasionally saying hi.
Fireworks and confetti are shot off when the cake is finished, along with the little girl clapping and cheering. After completion, the player is shown several other cakes to vote on while other players vote on the player's cake. However, this does seem to not be a real vote, as the player's cake always seems to win. Upon winning the 'vote,' the player earns stars that can be used to buy upgraded decorations for the cakes.
Numerous video ads are displayed throughout the gameplay and additional ads can be viewed to unlock extra options for baking and decorating the cake. Ads are for general audience items, such as online shops, food delivery services, and other apps. Banner ads are also present on the start screen for other apps by Cocoplay.
and
This app is rated 12+ in the Apple App Store, T in the US Google Play Store, and PEGI 12 in European Google Play Stores. Despite this older age rating, this app seems very clearly geared towards children. While the app description doesn't specifically mention children, phrases like, "It's princess party time! Put your favorite princess on a cake," indicate that the developers are expecting children to be using this app.

Reviews also reflect a primarily child-based audience, with mentions of children between 5 and 10 using the app. There is a mix of reviews written by parents about their children using the app and reviews written by the children themselves.
Privacy:
According to the privacy policy, which was last updated on May 5, 2021, the developers recognize that they operate apps for all ages and that children under 18 should have parents review the privacy policy and give permission to use the app. However, there is no age gate in place to determine the age of the users or steps to obtain parental consent. The policy indicates that they collect non-personal identifiable information from children and that they do share this data with third parties.
One thing that parents should be aware of, is the app requesting access to the camera to take selfies that can be 'printed' onto the cakes. The privacy policy indicates "The App does not collect any face data, and the photos and videos that you create are restricted to the App, locally stored and are not transmitted to the Company's servers and are not used or accessed by the Company."
Screenshots of Real Cake Maker 3D Bakery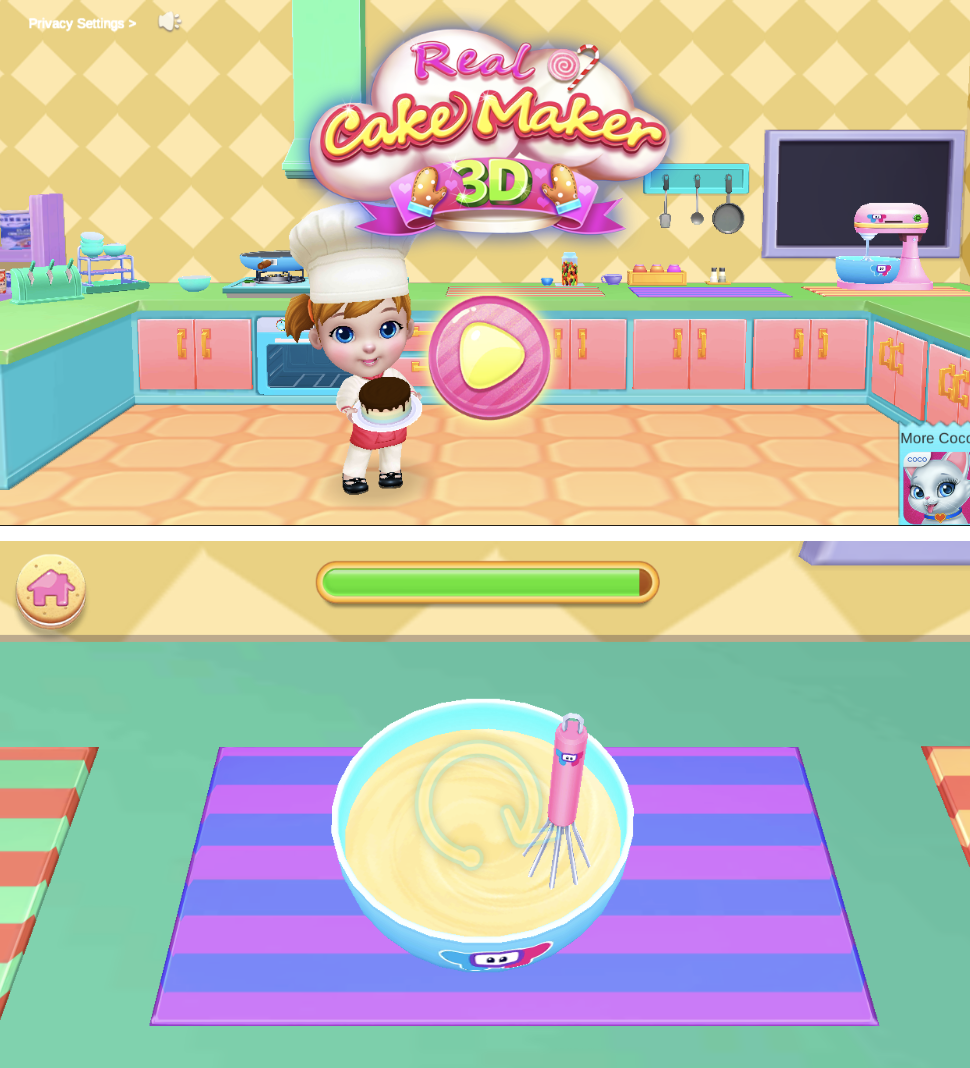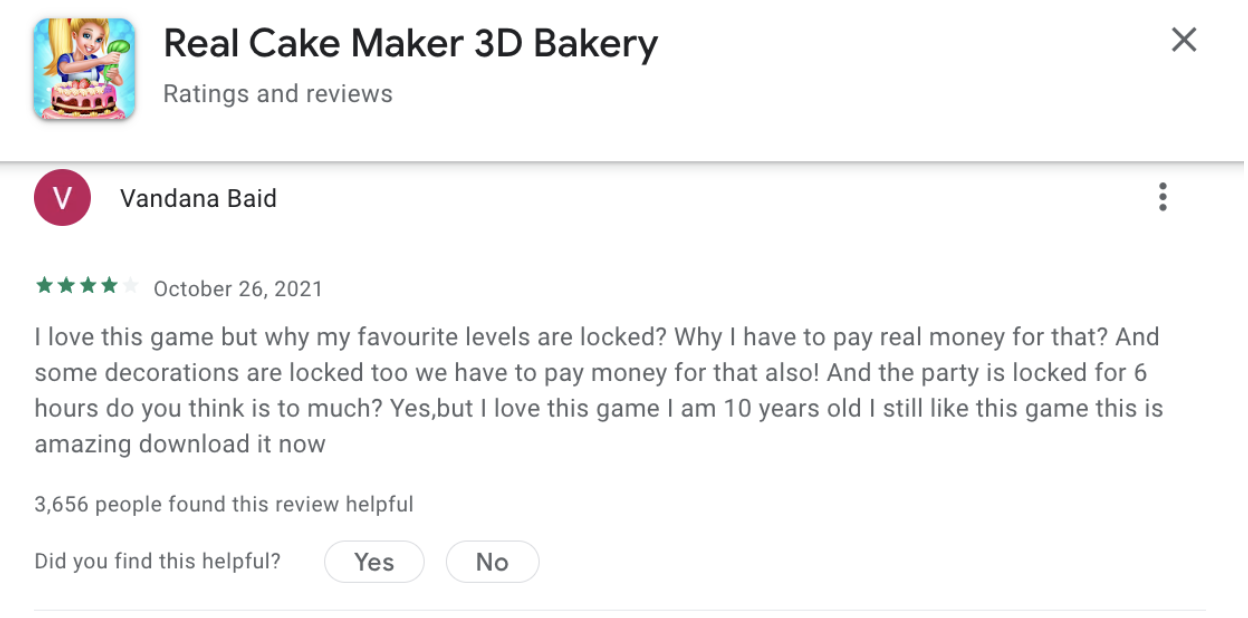 About Pixalate's Trust & Safety Advisory Board
Pixalate's Trust and Safety Advisory Board was created to bring in individuals with experience using child-directed apps in the classroom to review and assess which apps are child-directed. This manual review process serves to quality check Pixalate's automated review process. See our full methodology for more information.
Disclaimer
This blog post published by Pixalate is available for informational purposes only and is not considered legal advice. By viewing this blog post, the reader understands and agrees that there is no attorney-client relationship between the reader and the blog publisher. The blog should not be used as a substitute for legal advice from a licensed professional attorney in the applicable jurisdiction(s), and readers are urged to consult their own legal counsel on any specific legal questions concerning any specific situation. The content of this blog post reflects Pixalate's opinions with respect to factors that Pixalate believes may be useful to the digital media industry. Pixalate's opinions are just that, opinions, which means that they are neither facts nor guarantees; and this blog post is not intended to impugn the standing or reputation of any entity, person or app, but instead, to report findings pertaining to mobile and Connected TV (CTV) apps.