Use the COPPA Violation Risk Report for a risk analysis of your traffic, covering child directed traffic, risk levels and more.
The COPPA Violation Risk Report is a part of Pixalate's COPPA Compliance Tools, and enables clients to analyze their traffic to understand and monitor their real-time risk exposure related to COPPA compliance. The report analyzes all the apps that had actual traffic, and evaluates the risk based on the data compiled using Pixalate's COPPA assessment methodology.
The following are the key features within the COPPA Violation Risk Report.
Highlights in the tabs section
Graphs for visibility of the data points over time
Data grid with detailed analysis
Detailed Dimensions
Link to MRT for app info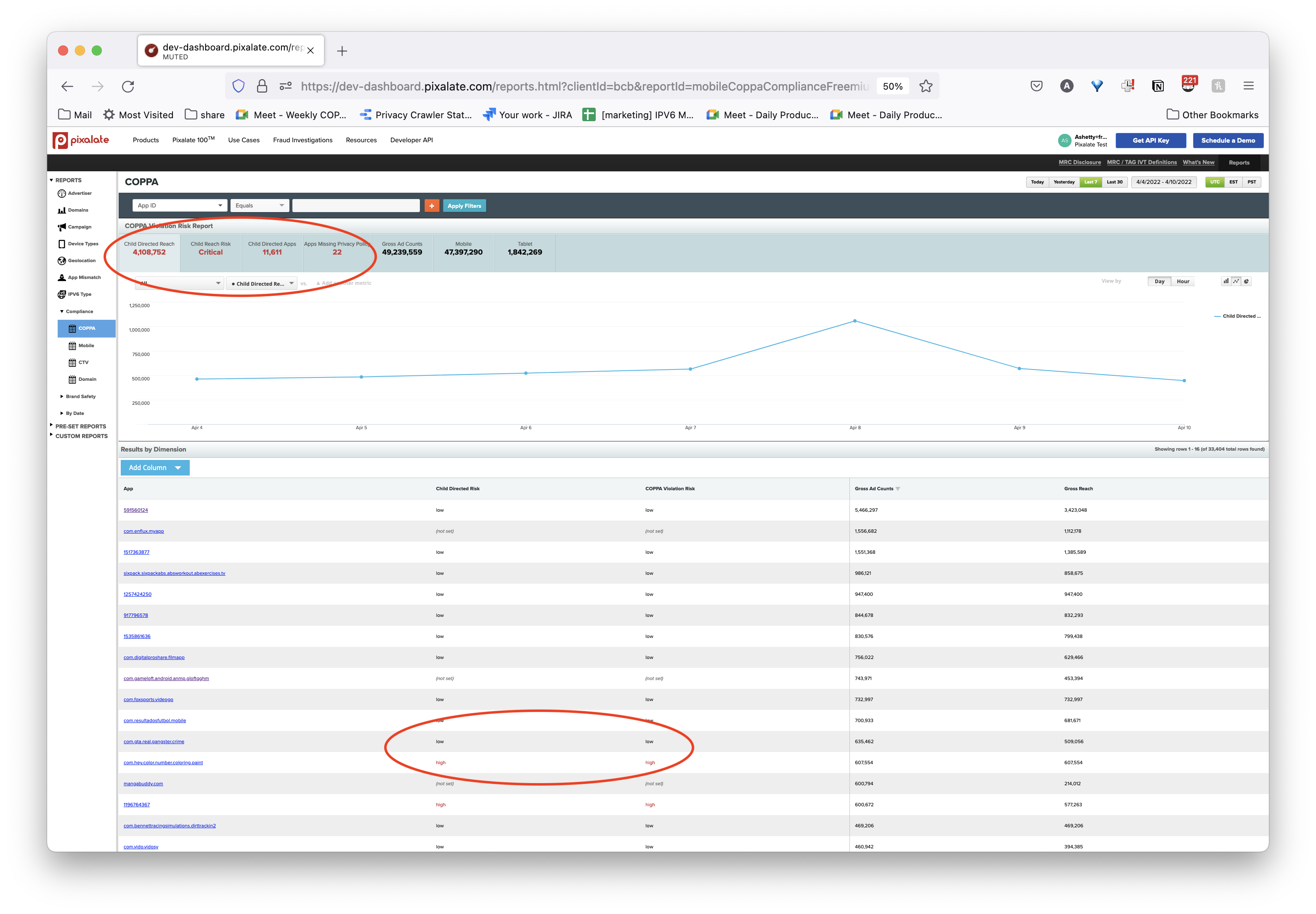 1. Highlights
The tabs include
1. Child Directed Reach - this is the net reach / users that had ads delivered via apps that are designated as likely child directed via Pixalate's methodology..
2. Child Reach Risk - this is a Pixalate defined metric based on the Child Directed Reach, intended to highlight the potential risk exposure for the client. The values are
- low if fewer than 10k users,
- severe if between 10k and 50k users, and
- critical if greater than 50k users.
3. Child Directed Apps - this is the number of apps that the client has traffic on, and that are designated as likely child directed via Pixalate's methodology.
4. Apps Missing Privacy Policy - this is the number of potentially child-directed apps that are missing privacy policy.
2. Graphs
The graph area allows clients to visualize changes to the various metrics over time
3. Data Grid
The data grid provides the details of this report.
The default view on the report lists all the apps grouped by their child-directed risk and their COPPA Violation risk. The default metrics are Gross Ad Counts and Gross Reach.
- child-directed risk - is "low" if our methodology indicates that the app is likely "General Audience". and "high" if it is potentially child directed, including mixed audiences.
- COPPA Violation Risk - is low / medium / high / critical - as defined in our COPPA Methodology
4. COPPA Dimensions
Clients can change the dimensions and metrics they view by clicking on the "Add Column" button. Specifically, the dimensions available in the "Compliance" group will very useful for clients to get some actionable insights.

These dimensions are built from the various data points that Pixalate has considered as important in determining the COPPA Violation Risk. Providing them as dimensions in this report allows clients the ability to group data at a granular level, and determine which apps they want to work with and take actions. For example, they can group by "Child Directed" and "Transmits Residential IP" to check if that data has been stored in their systems or not. Or they could use the "Privacy Policy Detected" data to determine which apps they will want to reach out to and request updates.
5. Link to MRT
Clicking on the appbundle in the grid area will lead the user to the MRT page for that app. This allows the user to quickly learn more about that app.
These capabilities within the COPPA Violation Report enables clients to understand the child privacy implications within their actual traffic, and take corrective actions.