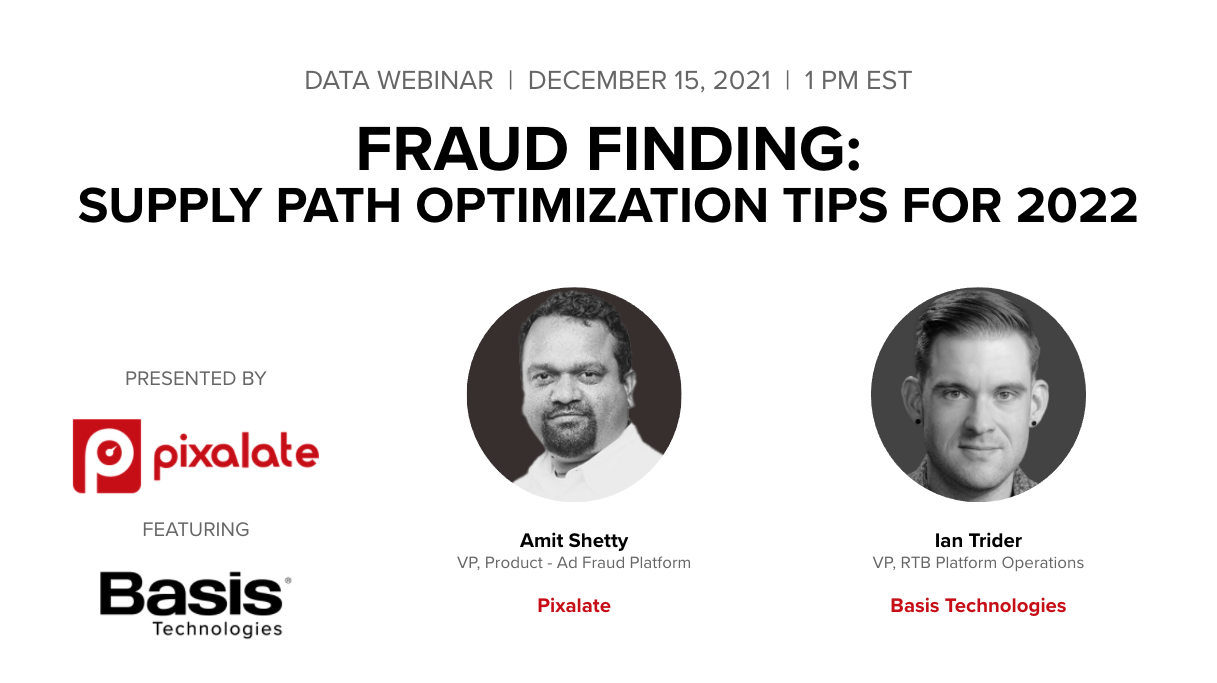 Join Pixalate and Basis (formerly Centro) for a webinar on Wednesday, December 15, 2021, at 1 pm ET (UTC-5), for a breakdown of how to use programmatic Supply Path Optimization (SPO) to wrangle ad fraud in 2022.
Pixalate recently introduced the ad industry's first ad fraud Supply Path Optimization (SPO) technology, which enables buyers and sellers to pick higher quality paths of delivering programmatic ads across CTV, mobile apps, and websites. Pixalate analysis reveals that overall IVT increases by 75% when going through 4 hops (compared to 1 or 2) and 71% through an incomplete path (a path in which every link in the chain does not use the SupplyChain Object).
But it's not just path length that matters. It's important to understand the IVT implications of every path, and that's where the experts from Pixalate and Basis — the ad industry's leading pioneers in Supply Path Optimization — can help.
Register today and learn how to optimize the programmatic ad supply chain and work with partners who perform the best in terms of ad fraud and other metrics.
Presented by
Amit Shetty, VP of Product - Ad Fraud Platform at Pixalate
Ian Trider, VP of RTB Platform Operations at Basis Technologies
What you'll learn
What is SPO and why it matters
The importance of the IAB Tech Lab's SupplyChain Object standard
The role of the IAB Tech Lab's ads.txt and sellers.json standards
How to avoid ad fraud using SPO
How to secure your ad supply chain from end to end
How to save money and avoid arbitrage pitfalls
And more
Register today!