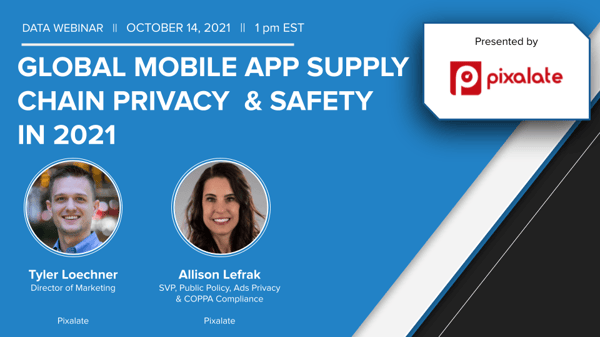 This event has concluded. Fill out the form to be directed to the recording of the webinar.
Join Pixalate for a webinar on Thursday, October 14, 2021, at 1 pm ET (5 pm UTC), for an in-depth look at the latest trends in the mobile in-app ecosystem as it pertains to risk factors around consumer privacy, app safety, and compliance.
Our data science team analyzed over 5 million mobile apps in H1 2021 across the Google Play Store and Apple App Store — as well as the 800,000 apps that were delisted from both of the app stores — to compile this research.
Presented by
What you'll learn
Privacy policy, TOS, and private registration trends in the mobile app space
Most popular delisted apps from Google and Apple app stores
The rise of "Dangerous permissions" in the Google Play Store
Lack of privacy policies: How big is the problem?
Foreign-registered app trends
Register today!