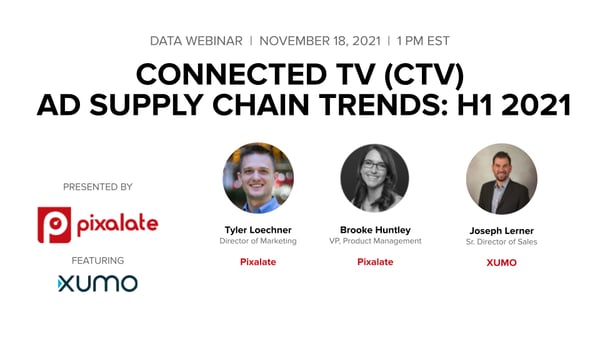 Join Pixalate and XUMO for a webinar on Thursday, November 18, 2021, at 1 pm ET (5 pm UTC), for an in-depth look at the latest trends in the Connected TV (CTV) open programmatic ad supply chain.
Pixalate's data science team analyzed over 60,000 CTV apps in H1 2021 across major app stores, including Roku, Amazon Fire TV, and Samsung, to compile the research reviewed in the webinar.
Presented by
Brooke Huntley, VP of Product Management, Pixalate
Joseph Lerner, Sr. Director of Sales, XUMO
Moderated by Tyler Loechner, Director of Marketing, Pixalate
What you'll learn
CTV ad spend trends
User engagement trends
Ad fraud in CTV
Household reach via CTV open programmatic advertising
CTV device trends
Roku Channel Store and Amazon Fire TV Channel Store Insights
Register today!