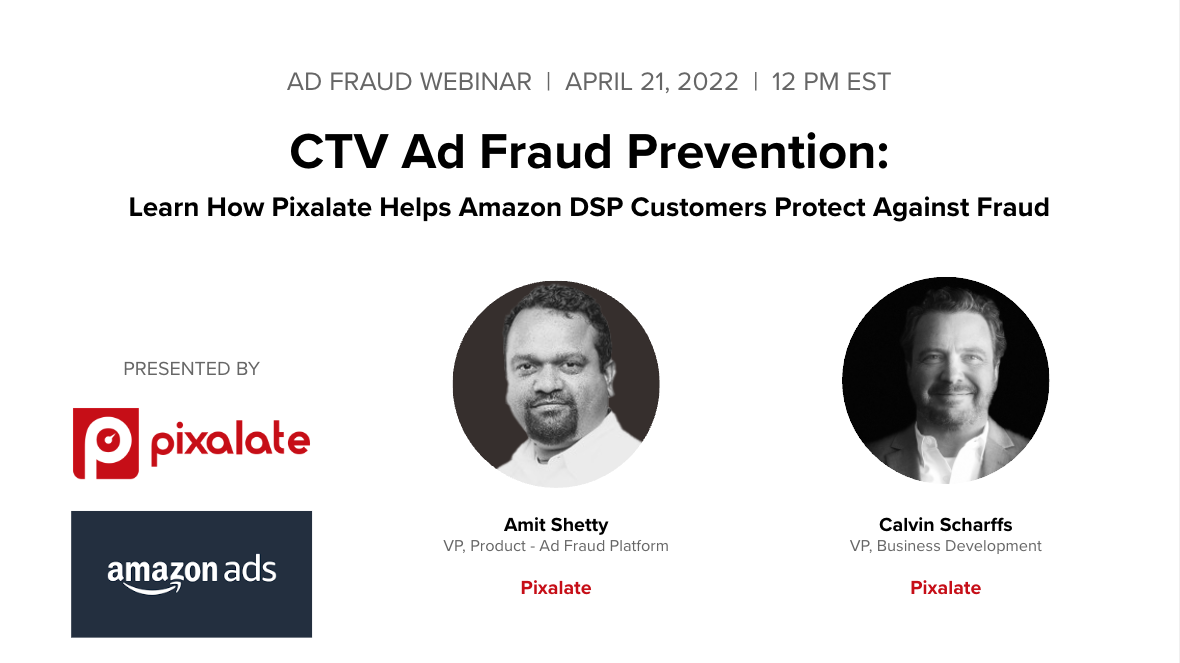 Join Pixalate for a webinar on April 21, 2022, at 12 pm ET (UTC-4), to learn more about ad fraud prevention using Amazon DSP in your marketing campaigns across CTV and mobile apps.
Ad fraud has become a huge problem with over 200B* in digital advertising spend in 2021 and $59B** lost to ad fraud. So it is very important to understand how to protect your Amazon marketing campaigns from losing these dollars.
Pixalate recently teamed up with Amazon to add the ability to add Pixalates ad fraud protection inside Amazon DSP. Learn from us - the ad industry's leading pioneers in ad fraud protection - about what ad fraud is, why this is a problem and how to prevent ad fraud in your Amazon DSP marketing campaigns.
Presented by:
Amit Shetty, VP of Ad Fraud Platform, Pixalate
Calvin Scharffs, VP of Business Development, Pixalate
What you'll learn:
What are the different types of ad fraud IVT (GIVT and SIVT)
Why is Ad Fraud a problem in CTV and Mobile Apps?
Why is it important not to advertise on delisted mobile apps from the Google Play and Apple App stores?
How are they measured?
Tips to prevent ad fraud
How to prevent ad fraud with Pixalate when using Amazon DSP
And more
Register today!
* = 2021 ANA research, ** = Juniper research