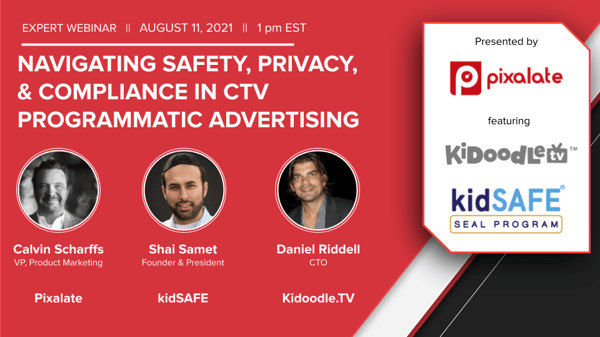 This event has concluded. Fill out the form to receive an email with the recording of the webinar.
Join us for a webinar on Wednesday, August 11, 2021, at 1 pm ET (5 pm UTC), for a deep dive into the issues lurking beneath the surface of the booming Connected TV (CTV) advertising space: Consumer Privacy, COPPA compliance, and brand and family safety.
Featured speakers include:
Calvin Scharffs, VP, Product Marketing, Pixalate (moderator)

Shai Samet, Founder & President, kidSAFE

Daniel Riddell, CTO, Kidoodle.TV
What you'll learn in our CTV privacy compliance webinar
CTV is the latest accelerant to the booming programmatic ad marketplace, but like its web and mobile counterparts, it is not free of online safety, privacy, and compliance risks.
In this webinar, Pixalate hosts experts from:
Kidoodle.TV: A CTV and mobile app publisher for families with children ages 2-12 that ranked No. 8 on the CTV Publisher Trust Index among Roku apps in June 2021 in North America
kidSAFE: An independent safety certification service for children-friendly website content, as we explore compliance risk, family risks such as parental advisories, content risks, content advisories, permissions risks, COPPA risk, compliance, and privacy violation risk.
Daniel Riddell, CTO of Kidoodle.TV will explain how they maintain quality for programmatic advertisers while navigating the latest privacy laws — specifically the Children's Online Privacy Protection Act (COPPA).
Shai Samet, Founder and President of the kidSAFE Seal Program, will explain how kidSAFE works with its member companies at all stages of their product development to help ensure their child-focused apps and technologies are safely designed and privacy compliant and out of harm's way with the Federal Trade Commission.
Join us for this webinar to learn more about navigating privacy, compliance, and safety issues in the rapidly-growing programmatic CTV ad ecosystem.