Welcome to Pixalate's Mobile App Manual Reviews According to COPPA, a series containing the detailed factors the Trust & Safety Advisory Board educators used to assess an app's child-directedness.
The educators manually review thousands of apps available in the Google Play & Apple App Stores using the COPPA Rule factors shown below & make those results available to the public at ratings.pixalate.com.
This post takes a look at two popular mobile apps. Popularity is measured by the number of downloads in the Google Play store and the number of user reviews in the Apple store. Our reviewer discusses how the subjective factors set forth in the COPPA Rule apply to each app and factor into the reviewer's determination as to whether the app is child-directed or general audience (i.e., it is not targeting children).
Apps manually reviewed in this post
This Week's Reviewer: Crystal Pearson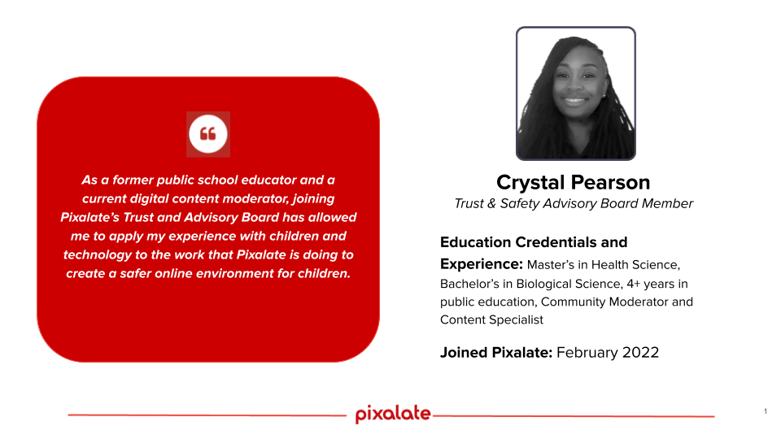 The 10 COPPA Rule factors
The teacher will indicate the factors they relied upon in their assessment using the 10 factors shown below that reflect the 10 child-directed factors in the COPPA Rule.
Manual Review: Talking James Squirrel-Virtu
Likely audience after manual review

COPPA factors used to determine audience
and

and

Talking James Squirrel-Virtu centers on a cute talking squirrel named James Squirrel who is a "little bit crazy" according to the app store description. James responds to what the user says and to the user's touch on the screen. Everyone would enjoy this game because you can play your favorite song and James will sing it back to you in his cute voice. James Squirrel and the various games and activities within the app would appeal both to children under 13 as well as older teens. COPPA defines "mixed audience" apps as those that target children under 13 as a portion of the audience.
The primary sound within this app is James Squirrel's cute voice and his piano. The game also includes silly sound effects such as bonks, honks, and clangs. The sounds are an immersive experience that amuses any one, young or old because they are fun and lighthearted.

The app includes 30 different games with many levels of play. It is fun to play with James and interact. The incentive is to play as many games with James to reach the highest levels that you can.
During gameplay, there are ads that show up when you lose or restart the game. The ad that displayed in my sample play was "Ryker Motorsport," which is geared towards adults. The majority of the ads that pop up are child-directed such as "Kiddopia," which is a learning activities app for preschoolers. There are numerous child directed game ads that continue to show throughout the game.

Talking James Squirrel-Virtu app has the content rating of E for everyone. There is evidence of a mixed audience composition based on some of the reviews that suggest that children use the app. One review from May of 2021 said "...daughter loves this app so much." The second review from July of 2021 said ".... great game to play with my nephew and niece." The third review from May of 2020 said " …it was my childhood game." Another review from August 2019 says, "It has different games, so everyone has a favorite one. It's fun for [the] whole family."



Privacy
The app's privacy policy states, "in order to use the app, we have to collect personal and non personal information." The policy states that Kaufcom, the developer, does not knowingly collect any personal information from children under 13 years of age, and that Kaufcom will delete such information if they become aware of it.
Screenshots of Talking James Squirrel: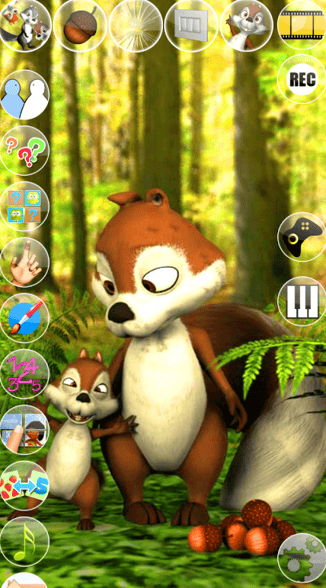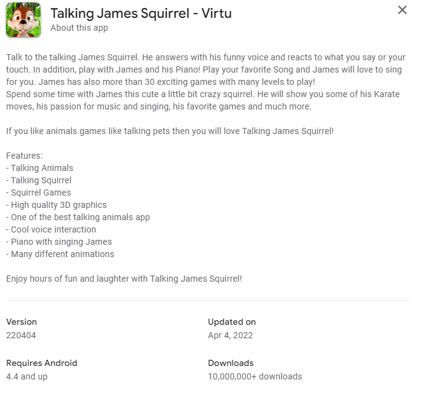 Manual Review: Toca Life World
Likely audience after manual review

COPPA factors used to determine audience
and
and
Toca Life World is a game where you can "create your own world and play out any story you like" according to the app store description. The visual content, subject matter and animation would appeal to children under 13. The app includes computer-animated images of children in educational, home, and park environments. The app store description asks, "Want to give grandma a wild hairstyle? Bring a sloth to the Skate Park? Or just hang out with friends?" This Google version of this app is in the Google Teacher Approved program which, according to Google, means that "teachers and children's education and media specialists recommend" it as a "high-quality app for kids."
The music and sound effects during the trailer and gameplay in the app are childlike with sounds of kids playing that bolsters imagination.
The incentive of the game is to create your own world. The game allows you to play out any story you like in any location within the game. Kids will love this because it is like a virtual playroom to play make believe while building new environments where they can express their creativity. It is not challenging or frustrating which makes it an attractive game for younger children.
The content rating for this app is E for Everyone in Google Play and 4+ in the Apple store. There are numerous reviews that demonstrate that children under 13 use the app. A review from September of 2022 states "..my daughter loves this game, since she was 3 years old. She is 6 now….." Another review from November of 2022 said "... my ten year old daughter plays with this app…"


Privacy
The app's privacy policy contains a "Children's Privacy" section. The developer states in that section of the policy, "The only third party service providers we use in our apps are to support our internal operations and we do not collect anything that is personally identifiable in our apps for children."
Screenshots of Toca Life World: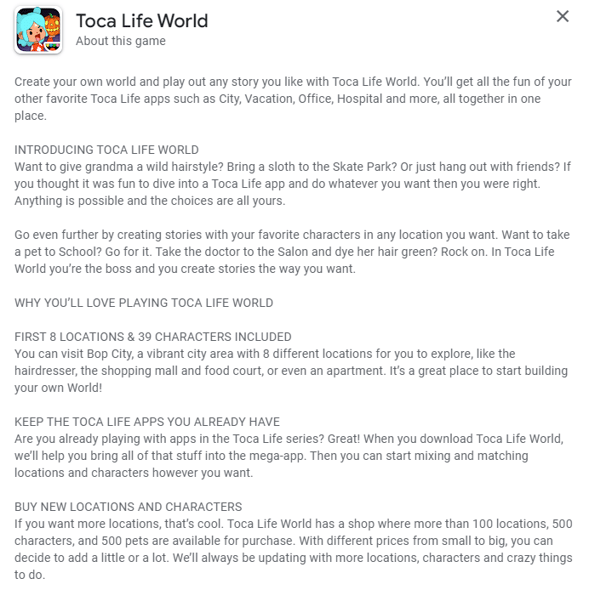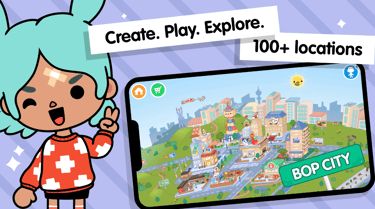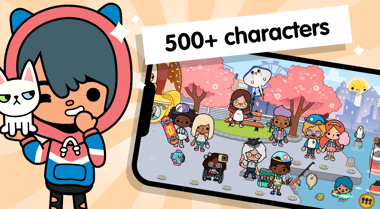 About Pixalate's Trust & Safety Advisory Board
Pixalate's Trust and Safety Advisory Board was created to bring in individuals with experience using child-directed apps in the classroom to review and assess which apps are child-directed. This manual review process serves to quality check Pixalate's automated review process. See our full methodology for more information.
Disclaimer
This blog post published by Pixalate is available for informational purposes only and is not considered legal advice. By viewing this blog post, the reader understands and agrees that there is no attorney-client relationship between the reader and the blog publisher. The blog should not be used as a substitute for legal advice from a licensed professional attorney in the applicable jurisdiction(s), and readers are urged to consult their own legal counsel on any specific legal questions concerning any specific situation. The content of this blog post reflects Pixalate's opinions with respect to factors that Pixalate believes may be useful to the digital media industry. Pixalate's opinions are just that, opinions, which means that they are neither facts nor guarantees; and this blog post is not intended to impugn the standing or reputation of any entity, person or app, but instead, to report findings pertaining to mobile and Connected TV (CTV) apps.